Bulk Order Discounts on Choir Folders

Peterborough Choral Society with their choir folders.
"Folders received this week and we love them! Thank you"
Sue Williams from Bra-Vissima Choir 7th August 2015
"Excellent service and very professional look. Choir are impressed and did'nt think they would look as good as they do!"
James Wilder - Master of Singing & Choral Music
"I, and the choir are absolutely delighted with the folders, the logo looks great. Thank you for your brilliant service - I will be more than pleased to recommend you to anyone interested"
Ian Lingwood from Chetnole community Choir
"Very good quality folders, all the features one wants, and very light"
BARTS Choir - One of the oldest and largest choral societies in London.
"I am emailing to confirm the folders arrived this afternoon. They are great, thank you very much"
"The folders I ordered from you on behalf of Sheffield Oratorio Chorus have arrived and we are very pleased with them, thank you"
Sheffield Oratorio Chorus.
We are delighted to offer a range of top quality Choir Folders in a range of colours - maroon, navy and black.
We are very happy to send you a folder to check it meets your needs and is the quality you are after before making an order.
Please note the 'maroon' folder shown below is less pink and darker than shown - please do contact me (Andrew Grigg 0845 304 5070 music@choraline.com
and I will be pleased to send you a sample so you can check you are happy with the colour.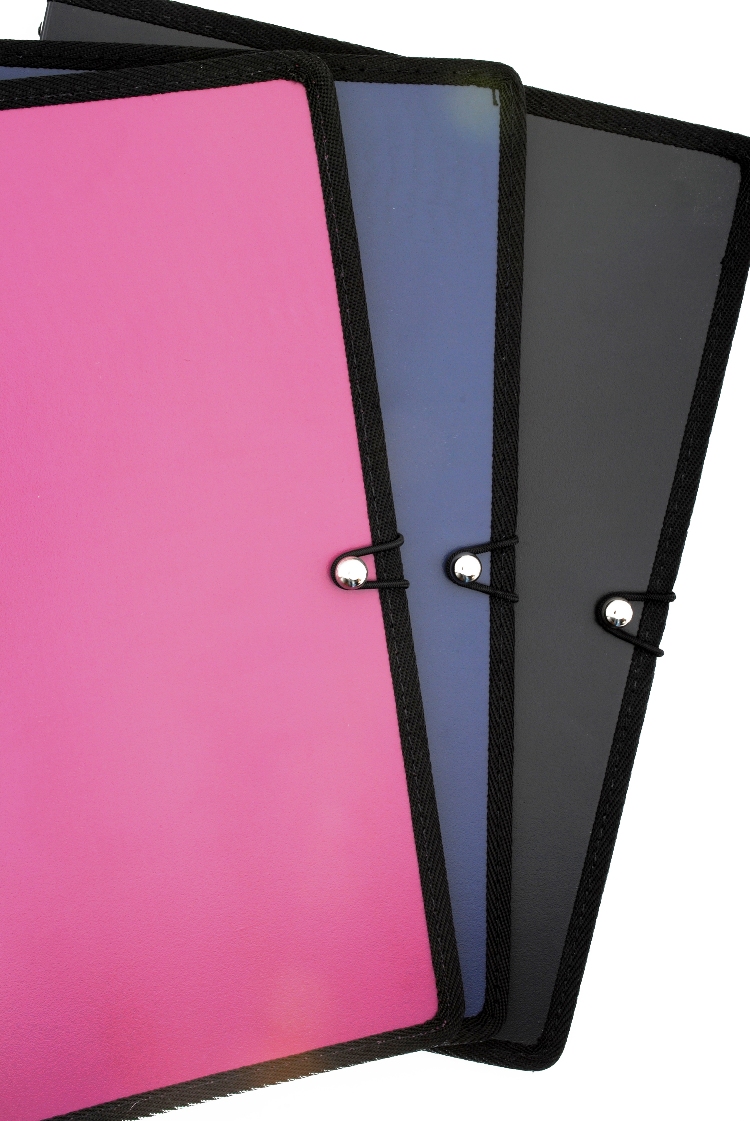 The folders are made in durable polypropylene, lightweight and stiff so will not flop open.
The choir folders features 10 retention cords (2 x 5) which are thick enough not to cut into the music pages and are welded on the outside spine so that the sporadic problem of cords ravelling and untying is avoided.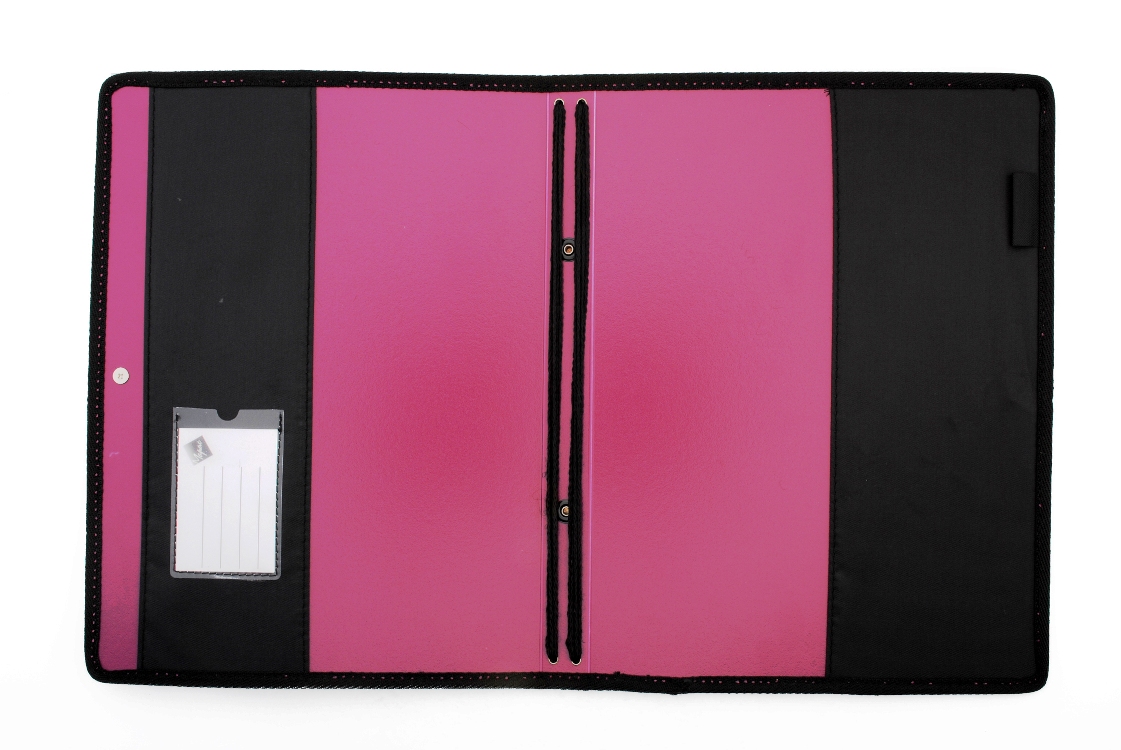 Smaller scores may be accommodated by the strong nylon pockets on both inside covers (unlike many choir folders which have clear plastic pockets which stretch).
The spine is wide enough to accept a Watkins Shaw Messiah score [one of the thickest], as well as Carmina Burana [one of the biggest].
There is a pencil loop on the inside back cover and a closure stud on the front cover.
On the back of the folder there is an expandable hand-strap so you can easily hold the folder
with one hand leaving the other
to turn over the page.
If you wish you can have your emblem, logo or crest printed on the front of the folder when you order 25 or more folders: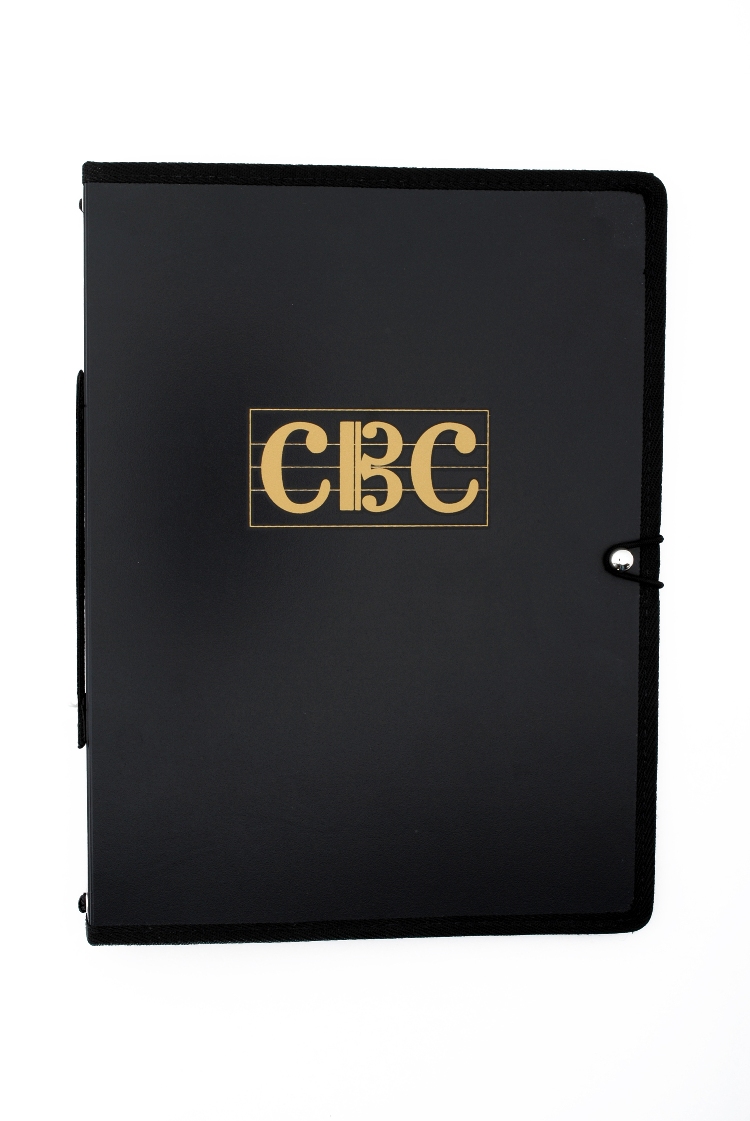 "Thank you so much for our new folders. I must compliment you on your excellent prompt service" Woodford Singers
The discounts for bulk orders start when you order at least 6 folders and increase with the number you require.
Please contact Andrew on 0845 304 5070
music@choraline.com
or complete the form below and we will be pleased to send you a quote: