Vocal Scores
We
stock over 1,000 vocal scores
, encompassing the most popular works in the SATB choral repertoire, of which we can supply the major editions issued by the likes of Faber, Novello, Barenreiter, Breitkopf & Hartel, Boosey & Hawkes, Edition Peters, Oxford University Press, and many more.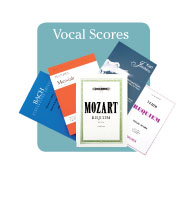 As well as our SATB choral range, we supply a good number of specialist items, such as works from the early music repertoire, arrangements for upper and lower voices, and SATB transcriptions of your favourite show tunes and pop songs.
If you have still not found the score you are after, please use our
Score Sourcing Service
which is available when you are seeking 10 or more scores.