Chorus Backing Track
Verdi Requiem
Prices From:
$16.19
In stock
Item Price: $16.19
Out of stock
We do apologise but this item is currently out of stock.

We replenish the stock every day so please do go ahead with your order.

If for some reason we cannot despatch within 5 working days we will email you with an estimated delivery date and the option to cancel if you wish.

Thank you for your patience
Select your currency:
BT002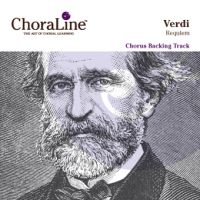 To hear a sample please click below
Alto
Tenor
Bass
"A wonderful way to rehearse on your own - as close as you will get to practising with a real choir"
A Chorus Backing Track is a high quality digital reproduction of the vocal score represented, in this case by a string section and mixed choir.
This recording is specifically made to assist choral directors and choral singers when learning the Soprano, Alto, Tenor, Bass (SATB) chorus parts and does not include some of the longer solo sections.
For accuracy of 'pitch' the words are not sung but represented by a 'choir note' for each SATB vocal line.
FOR CHORAL DIRECTORS
Hear the whole work without performance interpretation
Use at choir rehearsals when an accompanist is not available
Use as a teaching reference
FOR CHORAL SINGERS
Hear the score as 'music' represented by a string section and mixed choir
Hear all the chorus parts at the correct pitch
Rehearse your part as you sing with the whole choir
If you are looking for a more specific teaching method to actually learn your own voice part (Soprano, Alto, Tenor, Bass) please click here for a Choraline Voice Part Rehearsal CD/MP3