Music Gifts for Children
My First Classical Music Book by Genevieve Helsby
Price: $10.79
In stock
Item Price: $10.79
Out of stock
We do apologise but this item is currently out of stock.

We replenish the stock every day so please do go ahead with your order.

If for some reason we cannot despatch within 5 working days we will email you with an estimated delivery date and the option to cancel if you wish.

Thank you for your patience
Select your currency:
MB1 9781843791188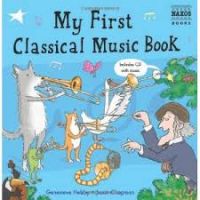 This is a delightfully colourful introduction to classical music, aimed to fire the imagination of young children aged 5-7 years.
Readers are asked to think about the different places in which we might hear music, whether it is in a concert hall, or just on television. They are then introduced to a selection of famous composers including Mozart and Beethoven, and learn about each of the musical instrument families, from woodwind to percussion.
Throughout the book children are referred to the accompanying CD so that they can hear examples as they read.
Music on the CD includes Mozart's 'Magic Flute', Williams' 'Harry Potter and the Philosopher's Stone', Saint-Saens' 'Carnival of the Animals', Holst's 'Planets', Stravinsky's 'Petrushka'; and Prokofiev's 'Peter and the Wolf'.
"A lovely book, just what I was looking for to enjoy with my little granddaughter. The illustrations are a delight - any child would love the animals which are found throughout, sometimes in unexpected places. As a teacher I value its excellent organisation & its approach to learning about music by making it such fun. A real gem."