Music Gifts for Children
Beginners pack (Hal Leonard)
Price: $10.79
In stock
Item Price: $10.79
Out of stock
We do apologise but this item is currently out of stock.

We replenish the stock every day so please do go ahead with your order.

If for some reason we cannot despatch within 5 working days we will email you with an estimated delivery date and the option to cancel if you wish.

Thank you for your patience
Select your currency:
MG14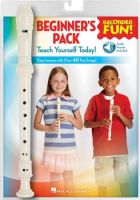 SERVICE - ChoraLine
If you order before 3pm we will despatch (1st Class Royal Mail) on the same day and you can call us on 01285 644845 for orders and advice.
Recorder Fun! Beginner's Pack (Instrument/Book/Online Audio)
Teach yourself to play the Recorder and learn over 40 great songs from around the world! This Recorder Fun!™ Pack includes:

A high-quality beginner's Recorder with the feel and tuning of a pro model.

A songbook with easy-to-follow lessons with instructions, pictures to color and fun songs!
Songs included:
A La Claire Fontaine
All Through The Night
Alman
Amazing Grace
Aura Lee
The Blue Bells Of Scotland
Bransle
Buzz, Buzz, Buzz, Buzz
Carnival Of Venice
Chiapanecas
Cockles And Mussels (Molly Malone)
The Coventry Carol
Easy Threes
Entre Le Boef Et L'Âne Gris
Four By Four
Gee, I'm Down Here!
Here They Come
High-Low Dance
The Holly And The Ivy
Julida Polka
Kookaburra
L'amour De Moi
La Bergamasca
La Cucaracha
Long-Short March
Mary Had A Little Lamb
A Mozart Melody
Noel Nouvelet
O Come, All Ye Faithful
O Come, O Come Emmanuel
Oh, Susanna!
Petit Camuson
Play It Twice
Silent, Silent
Simple Gifts
Tap Your Foot
This Old Man
Twinkle Twinkle, Little Star
Up And Down
Wiggle Your Toes
Zum Gali Gali