Music Themed Gifts
Fine Tune Set for Singers
Price: $40.49
In stock
Item Price: $40.49
Out of stock
We do apologise but this item is currently out of stock.

We replenish the stock every day so please do go ahead with your order.

If for some reason we cannot despatch within 5 working days we will email you with an estimated delivery date and the option to cancel if you wish.

Thank you for your patience
Select your currency:
TBS 12 + TBS1 + VZ1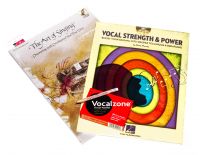 We've curated this selection of products to help singers of any genre fine tune their voice and take their vocal education to the next level:
Includes:
Vocal Strength & Power (with audio download) : Based on years of teaching and research, this book/downloadable audio pack by acclaimed vocal coach Dena Murray provides insightful methods and exercises for attaining vocal mastery.
Perfect for all singers - beginners to pros - who want more power in their voice, better pitch control, and a bigger singing range. With her prior two books, this volume forms a complete set of exercises to bring the voice to its full potential.
The Art of Singing (with CD): Another of our best sellers, this book delves deep into not just vocal technique, but also the complex relationship between an individual and their voice, with the aim of helping you to discover and develop your 'true voice'. Includes a 65-track CD.
Vocalzone:
Vocalzone Throat Pastilles are a unique blend of natural ingredients formulated to provide powerful relief from irritated throats caused by excessive singing and speaking.
Vocalzone is ideal for professional and amateur singers. Vocalzone can also relieve the irritation of the throat caused by the common cold.
Vocalzone is the only throat pastille available in the UK that contains Myrrh as an active ingredient. Myrrh is anti-inflammatory, analgesic, antiseptic, astringent and antimicrobial. Myrrh has been used to treat sore throats, inflamed gums, tonsillitis and mouth ulcers for many years.