Music Themed Gifts
Still with the music: Autobiography
Price: $27.00
In stock
Item Price: $27.00
Out of stock
We do apologise but this item is currently out of stock.

We replenish the stock every day so please do go ahead with your order.

If for some reason we cannot despatch within 5 working days we will email you with an estimated delivery date and the option to cancel if you wish.

Thank you for your patience
Select your currency:
MG5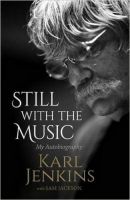 SERVICE - ChoraLine
If you order before 3pm we will despatch (1st Class Royal Mail) on the same day and you can call us on 01285 644845 for orders and advice.
Title: Still With The Music: My Autobiography Hardcover – 10 Sep 2015
by Karl Jenkins (Author), Sam Jackson (Collaborator)
Hardcover: 261 pages
Publisher: Elliott and Thompson; 1st edition (10 Sept. 2015)
Language: English
ISBN-10: 1783961376
ISBN-13: 978-1783961375
Music is a language that speaks to us all. But the music of Sir Karl Jenkins transcends boundaries of style and genre, of geography, language and nationality to communicate a message of peace that has profoundly moved millions around the world.
This Long awaited memoir covers one of the most versatile careers in modern music, offering a fascinating insight into the creative processes that drive one of Britains best-loved contemporary composers.