Tutor Books for Choir Directors
The Indispensable Handbook
Price: $9.44
In stock
Item Price: $9.44
Out of stock
We do apologise but this item is currently out of stock.

We replenish the stock every day so please do go ahead with your order.

If for some reason we cannot despatch within 5 working days we will email you with an estimated delivery date and the option to cancel if you wish.

Thank you for your patience
Select your currency:
TBS18 9780571522033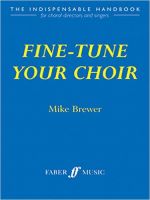 Fine-Tune Your Choir by Mike Brewer follows from the outstanding success of Kick-Start Your Choir, offering yet more practical strategies for perfecting your choral directorship skills, distilled from years of experience.
The book will prove to be essential reading for all choral directors and singers taking choirs beyond the basics to achieve a truly professional sound. Mike Brewer enjoys an unparalleled reputation for his work with musicians of all ages. He has motivated thousands of singers and choral conductors towards greater achievement through live workshops across the world, and is the director of the National Youth Choir of Great Britain.
Contents: Introduction; Preparation and rehearsal; Quality of sound; Memory; Blend; Intonation; Flexibility; Style; Language; Performance; Recommended further reading.