Tutor Books for Singers
Discovering and Developing Your True Voice
Price: $17.54
In stock
Item Price: $17.54
Out of stock
We do apologise but this item is currently out of stock.

We replenish the stock every day so please do go ahead with your order.

If for some reason we cannot despatch within 5 working days we will email you with an estimated delivery date and the option to cancel if you wish.

Thank you for your patience
Select your currency:
TBS1 HL00311476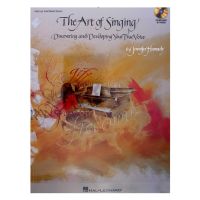 SERVICE - ChoraLine
We believe we provide the best service - if you order before 3pm we will despatch (1st Class Royal Mail) on the same day and you can call us on 01285 644845 for orders and advice.
The Art of Singing: Discovering and Developing Your True Voice
From back cover:
Jennifer Hamady has performed the world over with many of the top names in the music business. Also a coach to television actors, Broadway performers, and award-winning vocalists, she has writen a ground-breaking book on singing and the psychology of performing that is a must-read for every artist working today.

Using the medium of the voice, Jennifer shares her insights and experiences as a coach and a singer that will open your eyes to how we all - musicians and no-musicians alike - allow fear, doubt, preconceived notions, and overthinking to get in the way of clear, healthy, optimal singing - and living.

The accompanying CD - in Jennifer's own voice - captures a conversation about her ideas and journey, as well as exercises that will help you discover and release your true and best instrument.
Title:

The Art Of Singing - Discovering And Developing Your True Voice
Edition Info:

Includes Recorded Accompaniment Tracks
Category:

Vocal & Choral » Solo Vocal » Tuition Books
Catalogue Number:

HL00311476
ISBN:

9781423454809 (1423454804)
Date Published:

8 Jun 2009