Tutor Books for Singers
Beginner to Intermediate Level
Price: $12.14
In stock
Item Price: $12.14
Out of stock
We do apologise but this item is currently out of stock.

We replenish the stock every day so please do go ahead with your order.

If for some reason we cannot despatch within 5 working days we will email you with an estimated delivery date and the option to cancel if you wish.

Thank you for your patience
Select your currency:
TBS10 HL4781911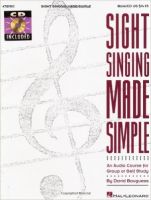 SERVICE - ChoraLine
We believe we provide the best service - if you order before 3pm we will despatch (1st Class Royal Mail) on the same day and you can call us on 01285 644845 for orders and advice.
This easy-to-use audio course for self study is a step-by-step introduction to music reading skills.
This resource will be an effective tool for building confidence and skill. Ideal for individuals or groups.
This course assumes no prior knowledge of written music, working from beginner to intermediate level
About the Author
Bauguess has been a choral director and an enthusiastic teacher of sight and singing for over twenty-five years.
His sight-singing publications have been used to teach hundreds of thousands of students and adults to read music.
"Great book for anyone who needs to be able to improve their sightsinging especially if in a choir or choral society. Would definately recommend"