Tutor Books for Singers
Boost Your Singing With Proper Technique & Breathing HAL LEONARD
Price: $21.59
In stock
Item Price: $21.59
Out of stock
We do apologise but this item is currently out of stock.

We replenish the stock every day so please do go ahead with your order.

If for some reason we cannot despatch within 5 working days we will email you with an estimated delivery date and the option to cancel if you wish.

Thank you for your patience
Select your currency:
TBS12 HL00311824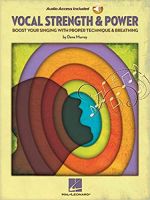 SERVICE - ChoraLine
We believe we provide the best service - if you order before 3pm we will despatch (1st Class Royal Mail) on the same day and you can call us on 01285 644845 for orders and advice.
Based on years of teaching and research, this book/downloadable audio pack by acclaimed vocal coach Dena Murray provides insightful methods and exercises for attaining vocal mastery.
Perfect for all singers - beginners to pros - who want more power in their voice, better pitch control, and a bigger singing range. With her prior two books, this volume forms a complete set of exercises to bring the voice to its full potential.

"I am a professional singer and vocal teacher and I found this book extremely helpful and informative both for myself and for my students!
Contrary to what most people believe, the higher you sing, the less breath you need. I know this as I have experienced it for myself.
The exercises in this book are excellent for encouraging proper breathing for singing and I use them myself.
I thoroughly recommend this book to anyone who wants to learn proper vocal technique"