Choral Performance CDs
Triple Conc. / Ch. Fantasia (EMI, cond. Barenboim) - Performance CD
Price: $14.84
In stock
Item Price: $14.84
Out of stock
We do apologise but this item is currently out of stock.

We replenish the stock every day so please do go ahead with your order.

If for some reason we cannot despatch within 5 working days we will email you with an estimated delivery date and the option to cancel if you wish.

Thank you for your patience
Select your currency:
PC5555162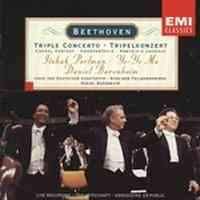 SERVICE - ChoraLine
If you order before 3pm we will despatch (1st Class Royal Mail) on the same day and you can call us on 01285 644845 for orders and advice.
Beethoven Triple Concerto
Soloists in Triple Concerto:
Itzhak Perlman; Yo-yo Ma; Daniel Barenboim

Soloist and conductor in Choral Fantasia:
Daniel Barenboim
Ludwig Van Beethoven: Triple Concerto for Violin, Cello and Piano in C, Op.56
I. Allegro

II. Largo

III. Rondo all polacca
Ludwig Van Beethoven: Fantasy for Piano, Chorus and Orchestra ,Op.80 'Choral Fantasia'
Adagio

Finale - Allegro -

Allegro molto

Adagio, ma non troppo

Marica, assai vivace - Allegro
Allegretto, ma non troppo (quasi Andante con moto) - Presto

Original Release Date: 31 Oct. 1995
Release Date: 28 Nov. 2005
Copyright: (C) 1995 EMI Records Ltd.
Penguin Guide: 3 stars

5555162