Choral Performance CDs
Elgar The Spirit of England (Somm)
Price: $17.25
In stock
Item Price: $17.25
Out of stock
We do apologise but this item is currently out of stock.

We replenish the stock every day so please do go ahead with your order.

If for some reason we cannot despatch within 5 working days we will email you with an estimated delivery date and the option to cancel if you wish.

Thank you for your patience
Select your currency:
PC255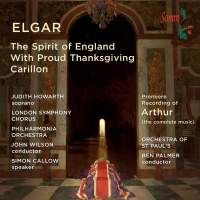 SERVICE - ChoraLine
If you order before 3pm we will despatch (1st Class Royal Mail) on the same day and you can call us on 01285 644845 for orders and advice.
Elgar:The Spirit of England, Op. 80
Judith Howarth (soprano)
London Symphony Chorus & Philharmonia Orchestra, John Wilson
Carillon, Op. 75
Simon Callow (speaker)
BBC Concert Orchestra, Ben Palmer
Arthur - Complete Incidental Music
edited by Ben Palmer (First Recording)
Orchestra of St. Paul's, Ben Palmer
With Proud Thanksgiving
Orchestra of St. Paul's, Ben Palmer
'For the Fallen has always seemed to me to have in its opening bars a personal tenderness and grief, in the grotesque march, an agony of distortion, and in the final sequences a ring of genuine splendour'. These words, written by Benjamin Britten, emphasise the importance of this new release by SOMM. The Spirit of England and With Proud Thanksgiving make a poignant backdrop to our commemoration of the anniversary of World War I. In addition, the complete incidental music to Binyon's play Arthur from 1923 is recorded for the first time. Simon Callow's recitation of Carillon in Binyon's setting from 1942 provides a perfect post-script -- a moving piece in which the poet longs for peace in a later war. Laurence Binyon (1869 – 1943) is known today for one famous verse from 'For the Fallen'* the complete poem being the most substantial part of Elgar's The Spirit of England the other two poems being 'The Fourth of August' and 'To Women'. In 1920 Elgar arranged For the Fallen as With Proud Thanksgiving for Choir and Military Band. It was intended that this should be sung at the unveiling of the cenotaph on 11 November. In the event it was not used. This recording is of Elgar's orchestration. For Binyon's verse play 'Arthur' from 1923, Elgar wrote music for the fourteen members of the pit band of the Old Vic. The play tells of King Arthur's last days and is the first recording of the complete music for the play in Elgar's original orchestration that has been edited by the conductor Ben Palmer.
Conductor: Ben Palmer
Composer: Sir Edward Elgar
Audio CD (29 Sept. 2014)
Number of Discs: 1
Label: Somm
ASIN: B00N83U8DA