Choral Performance CDs
Elgar: The Light of Life (Chandos cond.Hickox)
PC10726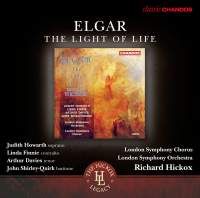 Elgar The Light of Life
Judith Howarth (soprano), Linda Finnie (contralto), Arthur Davies (tenor) & John Shirley-Quirk (bass)
London Symphony Chorus & London Symphony Orchestra, Richard Hickox
This re-release of The Light of Life by Sir Edward Elgar forms part of the new Hickox Legacy commemorative series on Chandos Records, leading up to (and continuing beyond) the fifth anniversary, in Nov 2013, of the conductor's untimely death. The recording is released on the Classic Chandos label at Mid Price.
The Light of Life, an oratorio for soprano, contralto, tenor, and baritone soloists, full choir and orchestra, is a lesser-known but imposing work by the composer who brought us the mighty Dream of Gerontius. The story concerns the blind beggar whose sight Christ restored. The words are taken from the Gospel of St John, with additions by the Reverend Edward Capel Cure.
Elgar proposed to call this his first oratorio Lux Christi, but his publishers persuaded him to provide an English title: as the work was written with the 1896 Three Choirs Festival at Worchester in mind, the concern was that an Anglican cathedral festival might detect a Roman Catholic bias… Elgar complied, and the work was given the more suitable title by which we know it today.
Gramophone wrote of the disc: 'Hickox's superior Elgarian credentials are immediately established in the glorious orchestral "Meditation", where his conducting demonstrates a noble flexibility, sensitivity to dynamic nuance and feeling for climax that are wholly beguiling… The LSO respond for their Associate Conductor with playing that is both warm-hearted and alert; as ever, the London Symphony Chorus contribute to proceedings in exemplary, splendidly disciplined fashion.' Hickox and the London Symphony Orchestra and Chorus were joined on this recording by the soloists Judith Howarth, Linda Finnie, Arthur Davies, and John Shirley-Quirk.
Original Release Date: 1 Sept. 1993
Release Date: 1 Sept. 1993
Label: Chandos
Copyright: (C) 1993 Chandos
CHAN10726