Choral Performance CDs
Haydn Missa Cellensis and Paukenmesse / Missa in tempore belli (Mass in Time of War) NAXOS
Price: $13.49
In stock
Item Price: $13.49
Out of stock
We do apologise but this item is currently out of stock.

We replenish the stock every day so please do go ahead with your order.

If for some reason we cannot despatch within 5 working days we will email you with an estimated delivery date and the option to cancel if you wish.

Thank you for your patience
Select your currency:
PC 8.572124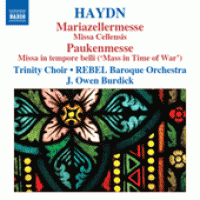 FAST SERVICE
Please order before 3pm for 'same day despatch' (1st Class Royal Mail)
'As Haydn scholar H.C. Landon explains, 'it is clear that with this Missa Cellensis…he reached, and reached with panache and astonishing vigour, the popular style for which he had been so long and so diligently searching.' For this reason, the Mariazellermesse 'is both the precursor to Haydn's late Masses as well as the culmination of his early efforts in the genre.' Fourteen years elapsed before Haydn's setting of the Mass in Time of War, also known as the Paukenmesse because of his evocative use of the timpani; the work demonstrates Haydn's new approach to the Mass, including dramatic extremes and more frequent integration of solo and chorus.'
Mass No. 8 in C Major, Hob.XXII:8, "Missa Cellensis", "Mariazellermesse"
2.

Gloria: Gloria in excelsis Deo 00:01:44
3.

Gloria: Gratias agimus tibi 00:05:14
4.

Gloria: Quoniam tu solus sanctus 00:01:53
5.

Credo: Credo in unum Deum 00:01:35
6.

Credo: Et incarnatus est 00:04:29
7.

Credo: Et resurrexit 00:00:57
8.

Credo: Et vitam venturi 00:01:20
11.

Agnus Dei: Agnus Dei 00:02:28
12.

Agnus Dei: Dona nobis pacem 00:02:15
Mass No. 10 in C Major, Hob.XXII:9, "Missa in tempore belli", "Paukenmesse", "Kriegsmesse"
14.

Gloria: Gloria in excelsis Deo 00:02:49
15.

Gloria: Qui tollis peccata mundi 00:04:46
16.

Gloria: Quoniam tu solus sanctus 00:02:26
17.

Credo: Credo in unum Deum 00:01:13
18.

Credo: Et incarnatus est 00:03:31
19.

Credo: Et resurrexit 00:02:04
20.

Credo: Et vitam venturi 00:02:25
23.

Agnus Dei: Agnus Dei 00:02:47
24.

Agnus Dei: Dona nobis pacem 00:03:03
Total Playing Time: 01:11:37
Composer(s):
Haydn, Franz Joseph
Lyricist(s):
Mass Text
Conductor(s):
Burdick, Owen
Orchestra(s):
REBEL Baroque Orchestra
Choir(s):
Trinity Church Choir, New York
Artist(s):
Davis, Nathan; Hoyt, Ann; Lippold, Richard; Nafziger, Sharla; Neer, Daniel; Sollek, Kirsten
Label: Naxos
Genre: Choral - Sacred
Period: Classical
Catalogue No: 8.572124
Barcode: 747313212477
Physical Release: 08/2010