Choral Performance CDs
Mozart: Mass in C Minor, K 427 'Great Mass' (Naxos)
Price: $12.14
In stock
Item Price: $12.14
Out of stock
We do apologise but this item is currently out of stock.

We replenish the stock every day so please do go ahead with your order.

If for some reason we cannot despatch within 5 working days we will email you with an estimated delivery date and the option to cancel if you wish.

Thank you for your patience
Select your currency:
PC8.554421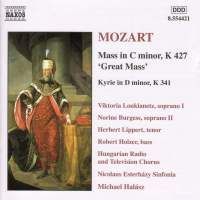 SERVICE - ChoraLine
If you order before 3pm we will despatch (1st Class Royal Mail) on the same day and you can call us on 01285 644845 for orders and advice.
Mozart:
Mass in C minor, K427 'Great'
Kyrie in D minor, K341
Norine Burgess (soprano), Robert Holzer (bass-baritone), Herbert Lippert (tenor), Viktoria Loukianetz (soprano), Kalman Strausz (choirmaster)
Nicolaus Esterhazy Sinfonia, Hungarian Radio Chorus, Michael Halasz
Wolfgang Amadeus Mozart: Mass No. 18 in C minor, K. 427, "Great"
Kyrie
Gloria: Gloria
Gloria: Laudamus te
Gloria: Gratias
Gloria: Domine
Gloria: Qui tollis
Gloria: Quoniam
Gloria: Jesu Christe
Gloria: Cum Sancto Spiritu
Credo: Credo in unum Deum
Credo: Et incarnatus est
Sanctus
Benedictus
Wolfgang Amadeus Mozart: Kyrie in D minor, K. 341
Kyrie in D minor, K. 341