Choral Performance CDs
Mass in A Flat / Magnificat (Naxos, cond. Schuldt-Jensen) - Performance CD
PC8.572114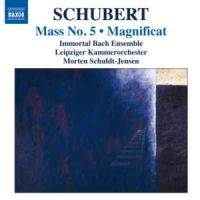 Schubert: Mass No.5 Magnificat
Soloists:
Trine Wilsberg Lund (soprano)
Bettina Ranch (alto)
Min Woo Lim (tenor)
Dominik Koniger (bass)
Immortal Bach Ensemble, Leipzig Chamber Orchestra, cond. Morten Schuldt-Jensen
Composed and revised over a seven-year period (1819-26) Schubert's fifth Mass setting is arguably his most songful and inventive. His integration of the soloists and chorus, mastery of fluid harmonies, and idiomatic treatment of the orchestra's woodwind section give the Mass in A flat major a symphonic quality which would later inspire Bruckner. Schubert regarded it as the finest of his six Latin Mass settings.
Schubert's C major setting of selected versicles from the Magnificat is a more Haydnesque piece, recalling the joyfully expressive music of the earlier composer's famous oratorio The Seasons (available on 8557600-01).
8.572114