Choral Performance CDs
Eng. Song Series III (5 Mystical Songs etc) (Naxos) - Performance CD
Price: $12.14
In stock
Item Price: $12.14
Out of stock
We do apologise but this item is currently out of stock.

We replenish the stock every day so please do go ahead with your order.

If for some reason we cannot despatch within 5 working days we will email you with an estimated delivery date and the option to cancel if you wish.

Thank you for your patience
Select your currency:
PC8.557114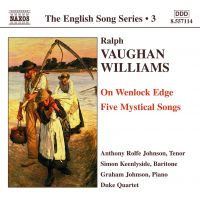 SERVICE - ChoraLine
If you order before 3pm we will despatch (1st Class Royal Mail) on the same day and you can call us on 01285 644845 for orders and advice.
NOTE: This version of the Five Mystical Songs does not feature chorus or orchestra. It is the smaller version for two soloists and piano quintet. Recordings of the full choral version can be found here and here.
Vaughan Williams: On Wenlock Edge/5 Mystical songs
Contains:

It was a Lover and his Lass
The Lawyer
The splendour falls
The Water Mill
Tired
Silent Noon
Searching for Lambs
Nocturne
Joy, Shipmate, Joy!
Lord, come away
Come Love, come Lord
Five Mystical Songs
On Wenlock Edge
Dirge for Fidele

Soloists: Anthony Rolfe Johnson, Simon Keenlyside, Graham Johnson (piano)
The Duke Quartet

Naxos 8.557114