Choral Performance CDs
Sancta Civitas / Dona nobis pacem (Naxos, cond. Hill) - Performance CD
Price: $13.49
In stock
Item Price: $13.49
Out of stock
We do apologise but this item is currently out of stock.

We replenish the stock every day so please do go ahead with your order.

If for some reason we cannot despatch within 5 working days we will email you with an estimated delivery date and the option to cancel if you wish.

Thank you for your patience
Select your currency:
PC8.572424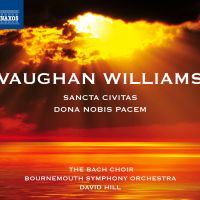 SERVICE - ChoraLine
If you order before 3pm we will despatch (1st Class Royal Mail) on the same day and you can call us on 01285 644845 for orders and advice.
Vaughan Williams: Sancta Civitas / Dona nobis pacem
Soloists:
Christina Pier, Andrew Staples, Matthew Brook
The Bach Choir, Winchester Cathedral Choristers, Winchester College Quiristers, Bournemouth Symphony Orchestra, cond. David Hill
Although Vaughan Williams described himself as 'a cheerful agnostic', he was not only steeped in the traditions of the Anglican Church, but sensitive to the mystical significance 'of what lies beyond sense and knowledge'.
Written in 1936, his cantata Dona nobis pacem sets powerful Biblical texts alongside those by Walt Whitman and John Bright and is both a warning that mankind was sliding disastrously towards another war and a plea for a world without strife.
The oratorio Sancta Civitas, one of his most original choral works, strikingly deploys vocal and orchestral forces to depict the battle between good and evil from the Book of Revelation.
Original Release Date: 27 April 2010
Release Date: 1 April 2010
Label: Naxos
Copyright: (C) 2010 Naxos
Total Length: 1:04:20
8.572424