ChoraLine - With Singer
Messiah 'With Singer' - CD & EasyPlay
Prices From:
$12.79 - $17.91
In stock
Item Price: $17.91
Out of stock
We do apologise but this item is currently out of stock.

We replenish the stock every day so please do go ahead with your order.

If for some reason we cannot despatch within 5 working days we will email you with an estimated delivery date and the option to cancel if you wish.

Thank you for your patience
Select your currency:
CMV223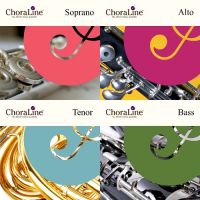 To hear a sample please click below
Alto
Tenor
Bass

HOW TO ORDER : Please click in the circle above next to your voice part (just under the price above) and then please click in the circle which pops up and says 'EasyPlay' or 'CD' and then 'Add to Basket'

Special Tip!
If you order 'EasyPlay' you will receive an email with a blue link to click to use on your PC/Laptop and the rehearsal recording will also upload into the PURCHASED MUSIC section in the ChoraLine App.
Please click here to watch a video on how to use the App and a 'step by step' guide on how to set up on your Phone and Tablet.

TRACK LISTING - if you are using EasyPlay it can be helpful to print off a 'Track List' to see which 'Bar Numbers' and 'Movements' are covered by each specific track.
Please click on your voice part to view and print SOPRANO ALTO TENOR BASS

We have also made a ChoraLine Recording to help learn your notes - please click here

ChoraLine With Singer

recordings are learning tools, specifically created to help choral singers memorise their words and notes..

'CHORALINE WITH SINGER' available as a CD and EasyPlay to use right away
* Listen to your part sung by a Professional Singer
* Rehearse with the Singer
* Easy way to learn your words
* Narrator calls out when to Sing
* Be prepared and Sing with more confidence
Please note the main objective of this recording is to assist you in learning your 'words', there is always a degree of discussion around the pronunciation and 'performance' of each word and this is always at the discretion of your conductor.
We have also produced the following to assist when learning your part:
ChoraLine Rehearsal Recording - To help in learning the notes and melody to Handel's Messiah
3 Steps To Sing - A unique 'visual' learning method in a 3 Disc Box Set or as a Download