Vocal Scores - Christmas
Chilcott & Blackwell Carols for Choirs 5 OUP
XVS2 OUP9780193373563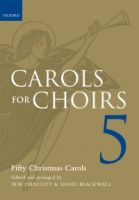 SERVICE - ChoraLine
If you order before 3pm we will despatch (1st Class Royal Mail) on the same day and you can call us on 01285 644845 for orders and advice.
Title: Carols for Choirs 5
Editor: Chilcott, Bob
Editor: Blackwell, David
Arrangement: SATB accompanied & unaccompanied (CHOIR)
Media: Sheet Music
Edition Info: Paperback
Pages: 240
Category: Vocal & Choral » Choral » Carols for Choirs
Category: Vocal & Choral » Choral » Christmas
Publisher: Oxford University Press
Catalogue Number: OUP9780193373563
Catalogue Number: 9780193373563
ISBN: 9780193373563 (0193373564)
Date Published: 6 Jul 2011
for SATB, accompanied and unaccompanied Carols for Choirs 5 continues the tradition of its predecessors by providing a complete resource for choirs from Advent through to Epiphany. Featuring brand new carols and arrangements of classic tunes, the collection showcases the very best established and new names in choral composition today.
Cecilia McDowall: A Heavenly Song

Malcolm Archer: A little child there is yborn

Carl Rütti: A Patre Unigenitus

Howard Skempton: Adam lay ybounden

W. J. Kirkpatrick arr. Alan Bullard: Away in a manger (UK tune)

James R. Murray arr. Bob Chilcott: Away in a manger (US tune)

Trad. German arr. Stephen Cleobury: Blest Mary wanders through the thorn

John Rutter: Candlelight Carol

Francis Pott: Carol

16th-cent. French arr. Mack Wilberg: Ding dong! merrily on high

Alan Bullard: Glory to the Christ Child

Trad. English arr. Mark Sirett: God rest you merry, gentlemen

Piae Cantiones arr. Bob Chilcott: Good King Wenceslas

Mendelssohn arr. Paul Leddington Wright: Hark! the herald-angels sing

Gabriel Jackson: Hush! my dear

Alan Bullard: I saw a stable

Andrew Simpson: I saw three ships

Matthew Martin: I sing of a maiden

Old German carol arr. Bob Chilcott: In dulci jubilo

Trad. English/Sullivan arr. John Scott: It came upon the midnight clear (UK tune)

Willis/Burnap arr. Mack Wilberg: It came upon the midnight clear (US tune)

Mason/Handel arr. Mack Wilberg: Joy to the world!

14th-cent. German arr. David Blackwell: Lo, how a Rose e'er blooming

David Willcocks: Lullay, my liking

Will Todd: My Lord has Come

John Rutter: New Year

J. F. Wade arr. Philip Ledger: O come, all ye faithful

15th-cent. French arr. Paul Leddington Wright: O come, O come, Emmanuel

Bob Chilcott: O little town

Jaakko Mäntyjärvi: Old Christmas Returned (or Hospitality Revived)

Kerry Andrew: Out of the Orient crystal skies

Bob Chilcott: Pilgrim Jesus

Alan Bullard: Scots Nativity

John Goss arr. Paul Leddington Wright: See amid the winter's snow

Franz Gruber arr. Bob Chilcott: Silent night

Trad. English arr. Bob Chilcott: Sussex Carol

Philip Ledger: The Bell Carol

Gabriel Jackson: The Christ-child

Matthew Owens: The holly and the ivy

Bob Chilcott: The Sparrows' Carol

Hermione Roff: The Virgin's Song

Howard Skempton: There is no rose

Alan Smith: There is no rose

John Hearne: There's a song in the air!

Z. Randall Stroope: This endris night

Jussi Chydenius: Voices in the Mist

Jonathan Willcocks: Wassail

J. H. Hopkins arr. Paul Leddington Wright: We three kings of Orient are

Thomas Hewitt Jones: What child is this?

Este's Psalter arr. Bob Chilcott: While shepherds watched their flocks