Vocal Scores - Christmas
Hill, D Noel! 3 - Carols And Anthems For Advent, Christmas And Epiphany NOVELLO
XVS11 NOV310838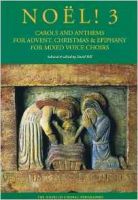 SERVICE - ChoraLine
If you order before 3pm we will despatch (1st Class Royal Mail) on the same day and you can call us on 01285 644845 for orders and advice.
Title: Noël! 3 - Carols And Anthems For Advent, Christmas And Epiphany
Editor: Hill, David
Arrangement: SATB, Organ Accompaniment, Piano Accompaniment (SATB/ORGA/PFA)
Media: Sheet Music
Edition Type: Vocal Score
Language: English
Pages: 264
Category: Vocal & Choral » Choral » Christmas
Category: Vocal & Choral » Choral » SATB
Publisher: Novello & Co
Catalogue Number: MUSNOV310838
Catalogue Number: 9781780386003
Catalogue Number: NOV310838
ISBN: 9781780386003 (1780386001)
Date Published: 2 Aug 2012
Noël! 3 is an exciting collection of Advent, Christmas and Epiphany music for mixed-voice choirs, from the easy to learn to the more challenging and unconventional. The contents range from the Baroque to the present: familiar settings of traditional and lesser-known carols through the ages to Howells, Berkeley and Warlock, and works by today's composers including Richard Rodney Bennett, Paul Mealor, John Tavener, Francis Pott and Richard Allain. Mixed-voice choirs of all levels will enjoy these new arrangements of favourite carols as well as stimulating original works for the Christmas season.
Table of Contents
A Lullaby of the Nativity [Blackford, Richard]

A Spotless Rose [Mealor, Paul]

Annunciation [Tavener, John]

As I Lay Upon A Night [Hall, Jamie W.]

Balulalow [Allain, Richard]

Balulalow [Burton, James]

Benedicamus Domino [Warlock, Peter]

Bright Star Carol [Muhly, Nico]

Child Of The Stable's Secret Birth [Rathbone, Samuel]

Coventry Carol [Bennett, Richard Rodney]

Deck The Hall With Boughs Of Holly (Arr. Adrian Lucas) [Traditional]

Ding Dong! Merrily On High (Arr. Malcolm Williamson) [Traditional]

Hereford Carol (Arr. Christopher Robinson) [Traditional]

Hodie Christus Natus Est [Locklair, Dan]

Hurry On To Bethlehem (Arr. Jonathan Wikeley) [Traditional]

I Saw Three Ships [Bennett, Richard Rodney]

I Wonder As I Wander (Arr. Matthew O'Donovan) [Niles, John Jacob]

In The Bleak Mid Winter [Allain, Richard]

In The Snow [Cleary, Pippa]

In Wintertime [Berkeley, Lennox]

Infant Holy, Infant Lowly [Roberts, Keith]

Joseph And The Angel [Terry, Richard Runciman]

Joseph Lieber, Joseph Mein [Praetorius, Hieronymus]

Lo, How A Rose E'er Blooming (Arr. Jan Sandström) [Praetorius, Michael]

Lullay, My Liking [Hill, David]

Lute-Book Lullaby [Pott, Francis]

Mary, That Mother Mild (Arr. Adrian Lucas) [Gesangbuch, Kölner]

My Jesu, Sleep [Harvey, Adam]

O Holy Night! (Arr. John West) [Adam, Adolphe]

O Magnum Mysterium [Locklair, Dan]

O Mortal Man (Sussex Mummers' Carol) (Arr. Herbert Howells) [Traditional]

O Radiant Dawn [MacMillan, James]

Quelle est cette odeur agréable (Arr. Matthew O'Donovan) [Traditional]

The Burning Babe [Wikeley, Jonathan]

The Holly and The Ivy [Thompson, Stuart]

There Is No Rose [Cusworth, Andrew]

There Is No Truth Sent From Above (Arr. Ralph Vaughan Williams) [Traditional]

Tomorrow Shall Be My Dancing Day (Arr. Stuart Nicholson) [Traditional]

Tua Bethlem Dref (Arr. Geoffrey Webber) [Traditional]

'Twas In The Winter Cold [Barnby, Joseph]

Walking In The Air [Blake, Howard]

We Wish You A Merry Christmas (Arr. John Gardner) [Traditional]

Wexford Carol (Arr. Timothy Noon) [Traditional]

Winter's Wait [Whitbourn, James]

Xicochi [Fernandes, Gaspar]