Vocal Scores - Christmas
Llewellyn, W The Novello Book of Carols NOVELLO
XVS7 NOV050048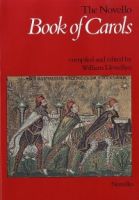 SERVICE - ChoraLine
If you order before 3pm we will despatch (1st Class Royal Mail) on the same day and you can call us on 01285 644845 for orders and advice.
Title: The Novello Book Of Carols
Composer: Llewellyn, William
Arrangement: SATB (SATB)
Media: Sheet Music
Edition Type: Vocal Score
Language: English
Pages: 280
Category: Vocal & Choral » Choral » Christmas
Category: Vocal & Choral » Choral » SATB
Publisher: Novello & Co
Catalogue Number: MUSNOV050048
Catalogue Number: NOV050048
ISBN: 9780853601272 (0853601275)
This outstanding collection of 90 carols offers a balanced mixture of accompanied and unaccompanied items which will appeal immediately to conductors, singers and audiences alike. Mostly for mixed voices, it includes 16 carols and a further 39 arrangements published here for the first time. From Gabrielli to Judith Weir, medieval melodies to spirituals, the range of styles covers a wide spectrum of tastes. Conductors will welcome the availability of optional orchestral material available on hire for 24 of the carols, to allow for performances without organ. This major issue of carols is edited by William Llewellyn, a well established figure in the world of choral music.
Table of Contents
A Babe Is Born

A Christmas Antiphon

A Fanfare For Christmas

A Gallery Carol

A Somerset Carol

Adam Lay Ybounden

Adests Fideles

All And Some

As Joseph Was A-walking

Away In A Manger

Balulalow

Canon For Three Choirs

Carol Of The Christ-child

Christmas Is Coming

Coventry Carol

Dawn Carol

De Virgin Mary Had A Baby Boy

Ding Dong! Merrily On High

Ding-dong, Ding

Donkey Plod And Mary Ride

El Cant Des Ocells

El Noi De La Mare

Fum, Fum, Fum

Gabriel's Message

God Rest You Merry, Gentlemen

Hark! The Herald Angels Sing

How Soft, Upon The Ev'ning Air

Huron Carol

Hush You, My Baby

I Saw Three Ships

I Song Of A Maiden

Il Est Ne Le Divin Enfant

Il Est Né, Le Divin Enfant [Traditional]

Illuminare, Jerusalem

In Dulci Jubilo

In The Bleak Midwinter

Joy Shall Be Yours In The Morning

Joy To The World!

King Jesus Hath A Garden

London Waits

Lullay My Liking

Lute-book Lullaby

Mary Walked Through A Wood Of Thorn

Mary's Child

Ninna-nanna A Gesu Bambino

Noel Nouvelet

O Leave Your Sheep

O Magnum Misterium

Once In Royal David's City

Our Lady And Child

Our Lady's Lullaby

Puer Nobis

Rejoice Lordings

Rocking Carol

Sans Day Carol

Sant Josep I La Mare De Deu

Sir Christemas

Slumber Song Of The Madonna

Stille Nacht

Susanni

The First Nowell

The Golden Carol

The Holly And The Ivy

The Infant King

The Little Road To Bethlehem

The Oxen

The Shepherds' Farewell

The Song Of The Birds

The Trees Of The Field

The Twelve Days Of Christmas

The Twelve Days Of Christmas [Traditional]

The Yorkshire Wassail

There Is No Rose

Torches!

Troc-a-tron

Tyrle, Tyrlow

Whence Is That Gooldy Fragrance Flowing?

You Go To My Head