Vocal Scores - Christmas
Willcocks: A Celebration in Carols OUP
Price: $13.44
In stock
Item Price: $13.44
Out of stock
We do apologise but this item is currently out of stock.

We replenish the stock every day so please do go ahead with your order.

If for some reason we cannot despatch within 5 working days we will email you with an estimated delivery date and the option to cancel if you wish.

Thank you for your patience
Select your currency:
XVS16 9780193405011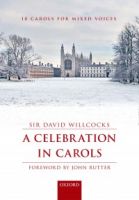 SERVICE - ChoraLine
If you order before 2.30pm we will despatch (1st Class Royal Mail) on the same day and you can call us on 01285 644845 for orders and advice.
This collection marks the 95th birthday of one of the most acclaimed editors and arrangers of our time. A survey of his work, it brings together many of Willcocks's best-loved carol arrangements, and also includes specially-commissioned new carols by John Rutter, Bob Chilcott, and Jonathan Willcocks.
Table of Contents
David Willcocks:
Bob Chilcott:
John Rutter:
Jonathan Willcocks:
Title: Willcocks: A Celebration in Carols
Composer: Willcocks, David
Arrangement: SATB accompanied & unaccompanied (CHOIR)
Media: Sheet Music
Edition Type: Vocal Score
Pages: 96
Category: Vocal & Choral » Choral » Christmas
Category: Vocal & Choral » Choral » SATB
Publisher: Oxford University Press
Catalogue Number: 9780193405011
ISBN: 9780193405011 (0193405016)
Date Published: 6 Nov 2014