Vocal Scores - Anthems
Baird, J Sing, Choirs!: Anthems, Psalms And Hymns For Choirs NOVELLO
VSA3 NOV294382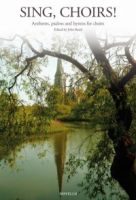 SERVICE - ChoraLine
If you order before 3pm we will despatch (1st Class Royal Mail) on the same day and you can call us on 01285 644845 for orders and advice.
Title: Sing, Choirs!: Anthems, Psalms And Hymns For Choirs (SATB/Organ)
Editor: Baird, John
Arrangement: SATB, Organ Accompaniment (SATB/ORGA)
Media: Sheet Music
Edition Type: Vocal Score
Language: English
Pages: 192
Category: Vocal & Choral » Choral » SATB
Publisher: Novello & Co
Catalogue Number: NOV294382
ISBN: 9781783054145 (178305414X)
Sing, Choirs! is a library in miniature. It contains many of the Christian church's popular traditional anthems, including at least one example that will be suitable for each of the major services of the year. A number of Anglican chants (Psalms, Magnificat and Nunc Dimittis) are included, set out in a way that should enable those who are unfamiliar with the style to perform them easily. The selection of movements from the Mass can be used to enrich the music of the liturgy in services. Many of the works in Sing, Choirs! are presented in their original form, such as Bruckner's Locus Iste and Mozart's Laudate Dominum . Others are arrangements, adaptations or longer pieces, abridged to bring them into the scope of a useable anthem, including choral arrangements of Handel's Largo , the Ave Marias by Schubert and by Bach and Gounod, and Franck's Panis Angelicus amongst many others. This collection has practicability as a priority. The Organ parts can be played on either the Piano or the Keyboard. Much of the music in Sing, Choirs! will be suitable for special occasions, making this an indispensable volume for choirs singing at weekly church services, weddings, funerals and in the concert hall.
Table of Contents
Agnus Dei [Baird, John]

All My Hope On God Is Founded [Howells, Herbert]

Alleluia [Baird, John]

Almighty And Everlasting God [Gibbons, Orlando]

Ave Maria [Johann Sebastian Bach & Charles Gounod]

Ave Maria [Schubert, Franz]

Ave Verum Corpus [Byrd, William]

Ave Verum Corpus [Elgar, Edward]

Ave Verum Corpus [Mozart, Wolfgang Amadeus]

Canon [Pachelbel, Johann]

Come, Holy Ghost (Song 44) [Gibbons, Orlando]

Creation's Hymn [van Beethoven, Ludwig]

Dear Lord And Father Of Mankind [Parry, Hubert]

Drop, Drop, Slow Tears (Song 46) [Gibbons, Orlando]

Gaudete [Cantiones, Piae]

Gloria In Excelsis (Gloria) [Vivaldi, Antonio]

Glory To God [Handel, George Frideric]

God Be In My Head [Davies, Henry Walford]

Hosannas And Benedictus [Haydn, Franz Josef]

How Brightly Shines The Morning Star [Johann Sebastian Bach, Philipp Nicolai, Peter Cornelius]

If Ye Love Me [Tallis, Thomas]

Jesu, Joy Of Man's Desiring [Bach, Johann Sebastian]

Kyrie (Missa Brevis) [da Palestrina, Giovanni Pierluigi]

Largo [Handel, George Frideric]

Laudate Dominum [Mozart, Wolfgang Amadeus]

Lead me, Lord [Wesley, Samuel Sebastian]

Let The People Praise The Lord [Wagner, Richard]

Locus Iste [Bruckner, Anton]

Magnificat [Martin Luther arr. John Goss]

Missa In Tempore Belli [Haydn, Franz Josef]

Now Thank We All Our God [Johann Crüger, Johann Sebastian Bach, Johann Pachelbel]

Nunc Dimittis [Ludwig van Beethoven arr. John Goss]

O For The Wings Of A Dove (Hear My Prayer) [Mendelssohn, Felix]

O God, Thou Art My God [Purcell, Henry]

O Holy Night! [Adolphe, Adam]

O Sacred Head, Sore Wounded [Bach, Johann Sebastian]

Ode To Joy [Van Beethoven, Ludwig]

Panis Angelicus [Franck, Cesar]

Praise God, From Whom All Blessings Flow [Wagner, Richard]

Psalm 121 [Turle, James]

Psalm 130 [Henry Purcell arr. James Turle]

Psalm 23 [Ludwig van Beethoven arr. Percy Woodstone]

Psalm 42 [Wesley, Samuel Sebastian]

Sanctus (Requiem) [Fauré, Gabriel]

Sheep May Safely Graze [Bach, Johann Sebastian]

Silent Night [Gruber, Franz]

Sleepers Wake! [Bach, Johann Sebastian]

St Anthony Chorale [Haydn, Franz Joseph]

Thou Knowest, Lord, The Secrets Of Our Hearts [Purcell, Henry]

Thou Visitest The Earth [Greene, Maurice]