Vocal Scores - Anthems
Volume 1 Anthems and Motets OUP
Price: $6.74
In stock
Item Price: $6.74
Out of stock
We do apologise but this item is currently out of stock.

We replenish the stock every day so please do go ahead with your order.

If for some reason we cannot despatch within 5 working days we will email you with an estimated delivery date and the option to cancel if you wish.

Thank you for your patience
Select your currency:
VSA8 OUP9780193368415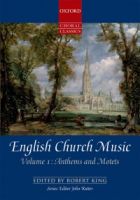 SERVICE - ChoraLine
If you order before 3pm we will despatch (1st Class Royal Mail) on the same day and you can call us on 01285 644845 for orders and advice.
English Church Music assembles in two volumes around 100 of the finest examples of English sacred choral music of the past five centuries. The first volume, dedicated to anthems and motets, presents both favourite and lesser-known works, from Renaissance polyphony to the works of the great 19th- and 20th-century composers.
Anon.: Rejoice in the Lord alway

Bairstow: Jesu, the very thought of thee

Blow: Salvator mundi

Boyce: O where shall wisdom be found?

Byrd: Ave verum Corpus

Byrd: Haec dies

Byrd: Justorum animae

Byrd: Sing joyfully

Elgar: They are at rest

Farrant or Hilton: Lord, for thy tender mercy's sake

Gibbons: O clap your hands

Gibbons: O Lord, in thy wrath

Goss: These are they which follow the Lamb

Greene: Lord, let me know mine end

Hadley: My song is love unknown

Harris: Faire is the heaven

Harwood: O how glorious is the kingdom

Howells: Like as the hart desireth the waterbrooks

Ireland: Greater love hath no man

Lewis: The souls of the righteous

Mendelssohn: Hear my prayer

Morley: Nolo mortem peccatoris

Naylor: Vox dicentis: Clama

Parsons: Ave Maria

Philips: Ascendit Deus

Purcell: Hear my prayer, O Lord
Title:

English Church Music, Volume 1: Anthems and Motets
Arrangement:

SATB with keyboard/unaccompanied/basso continuo (CHOIR)
Edition Type:

Vocal Score
Category:

Vocal & Choral » Choral » SATB
Publisher:

Oxford University Press
Catalogue Number:

OUP9780193368415
Catalogue Number:

9780193368415
ISBN:

9780193368415 (0193368412)
Date Published:

19 Aug 2010