Vocal Scores - Anthems
The Novello Book Of Classic Anthems NOVELLO
VSA2 NOV294371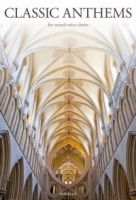 SERVICE - ChoraLine
If you order before 3pm we will despatch (1st Class Royal Mail) on the same day and you can call us on 01285 644845 for orders and advice.
Title: The Novello Book Of Classic Anthems
Arrangement: SATB, Organ Accompaniment (SATB/ORGA)
Media: Sheet Music
Language: English
Pages: 192
Category: Vocal & Choral » Choral » SATB
Publisher: Novello & Co
Catalogue Number: NOV294371
Catalogue Number: 9781783054138
ISBN: 9781783054138 (1783054131)
Date Published: 6 Feb 2014
The Novello Book of Classic Anthems brings together some of the finest sacred choruses ever written. The collection includes miniature gems, including Edward Elgar's Ave verum corpus , Henry Purcell's Thou knowest, Lord, the secrets of our hearts , and Thomas Attwood's Come, Holy Ghost , and established choral favourites such as Handel's Hallelujah Chorus , Henry Balfour Gardiner's Evening Hymn and Samuel Sebastian Wesley's Blessed be the God and Father . It also covers a number of dramatic extended anthems, suitable for both church choirs and choral societies, such as Edward Naylor's Vox dicentis: clama , John Stainer's I saw the Lord and Wesley's Ascribe unto the Lord , and twentieth-century classics such as William Harris's Bring us, O Lord God , Patrick Hadley's My beloved spake , and Edgar Bainton's And I saw a new heaven . All the pieces have been re-engraved and some, such as Haydn's The heavens are telling and Brahms's How lovely are thy dwellings , have newly arranged accompaniments, specifically designed for the Organ. This collection of nineteen anthems covers a wide range of moods and festivals, and offers a delightful concert programme in itself, as well as an essential addition to any choir's library.
Table of Contents
Hallelujah' from Messiah [Handel , George Frideric]

The heavens are telling' from The Creation [Haydn, Franz Josef]

And I saw a new heaven [Bainton, Edgar]

Ascribe unto the Lord [Wesley, Samuel Sebastian]

Ave Verum [Elgar, Edward]

Blessed Be The God And Father [Wesley, Samuel Sebastian]

Bring us, O Lord God [Harris, William]

Come, Holy Ghost [Attwood, Thomas]

Evening Hymn [Gardiner, Henry Balfour]

Hear My Prayer, O Lord [Purcell, Henry]

How lovely are thy dwellings [Brahms, Johannes]

I Saw The Lord [Stainer, John]

My beloved spake [Hadley, Patrick]

O holy night [Adam, Adolphe]

Rejoice in the Lord always [Rathbone, George]

Remember Not, Lord, Our Offences [Purcell, Henry]

Save us, O Lord [Bairstow, Edward]

Thou knowest Lord the secrets of our hearts [Purcell, Henry]

Vox dicentis clama! [Naylor, Edward]