Vocal Scores - Choral
Dvorak Mass in D Op.86 Choir & Organ BARENREITER
VS652 BA7511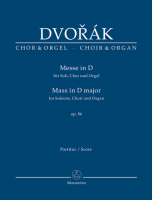 Composed by Antonin Dvorak (1841-1904). Edited by Jarmil Burghauser and Antonin Cubr. Published by Barenreiter (2002 edition).
The 'Choir and Organ' series features great choral works in deft arrangments for vocal soloists, choir and organ. Based on the available sources, it draws on the tradition of contemporary organ arrangements and presents the orchestral part as an effective and easy-to-play organ transcription on three staves.
This volume follows the musical text of the scholarly-critical edition prepared from the composer's manuscript and published in the Dvorak Gesamtausgabe. Editorial additions are identified by brackets. Passages where the organ version departs from the orchestral version are clearly indicated in the vocal parts.
ISBN: 9790006521647