Vocal Scores - Choral
Handel Saul NOVELLO
VS235 NOV070145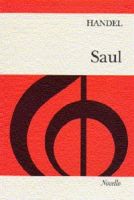 This oratorio for SATB soli, SATB chorus and orchestra is one of the richest and fullest of all Handel's works, although not his most well-known. This vocal score includes a piano accompaniment revised from that of the German Handel Society.
Title: Handel: Saul
Composer: Handel, George Frideric
Arrangement: SATB, Piano Accompaniment (SATB/PFA) by E Prout.
Media: Sheet Music
Edition Type: Vocal Score
Language: English
Pages: 160
Category: Vocal & Choral » Choral » SATB
Publisher: Novello & Co
Catalogue Number: MUSNOV070145
Catalogue Number: NOV070145
ISBN: 9780853603887 (085360388X)