Vocal Scores - Choral
VAUGHAN WILLIAMS Benedicite OUP
VS656 - 9780193851597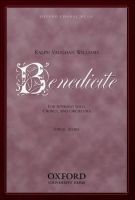 Vocal score for Soprano Solo, Chorus and Orchestra. Published by Oxford University Press.
This work was given its first performance at the Leith Hill Festival, Dorking, in 1930, and has been recorded by Heather Harper, The Bach Choir, and the London Symphony Orchestra conducted by David Willcocks.
The accompaniment is scored for full orchestra but is cued in for smaller orchestra.
ISBN: 978-0-19-385159-7