Vocal Warm Up Exercises
Devised and demonstrated by Deborah Miles-Johnson
Prices From:
$12.79
In stock
Item Price: $12.79
Out of stock
We do apologise but this item is currently out of stock.

We replenish the stock every day so please do go ahead with your order.

If for some reason we cannot despatch within 5 working days we will email you with an estimated delivery date and the option to cancel if you wish.

Thank you for your patience
Select your currency:
VE1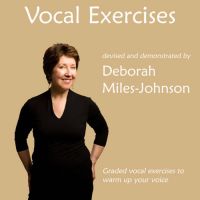 To hear a sample please click below
Vocal Exercises
devised and demonstrated by
Deborah Miles-Johnson
Please note: When you purchase this recording via the ChoraLine website you will receive an email with a blue link to click to use on your PC/Laptop and the recording will be uploaded into the Purchased Music section in the App
Graded vocal exercises to warm up your voice and acquire good singing habits when singing and rehearsing at home - also excellent to play in the car on the way to rehearsal or your concert.
Track 1 Introduction
Track 2 Physical Exercises
Track 3-25 Lower Voices
Track 26-49 Higher Voices
"I can't recommend Deborah's work and abilities highly-enough."
Michael Emery (Conductor, The Weald Choir, and Producer BBC Singers
"Debbie has a warm, engaging personality making the learning experience most enjoyable. She is tremendously enthusiastic and a great enabler, inspiring confidence and genuine improvement particularly in the techniques of voice production."
Bob Hawkes (Chairman, St Albans Bach Choir)