Beethoven
Ludwig van Beethoven (1770-1827) is acknowledged as one of the giants of classical music; occasionally he is referred to as one of the "three Bs" (along with Bach and Brahms) who epitomize that tradition. He was also a pivotal figure in the transition from the 18th century musical classicism to 19th century romanticism, and his influence on subsequent generations of composers was profound.
BEETHOVEN- Please click here to view everything we stock
BEETHOVEN Choral Scores - Please click here
BEETHOVEN ChoraLine - Please click here
BEETHOVEN Performance CDs - Please click here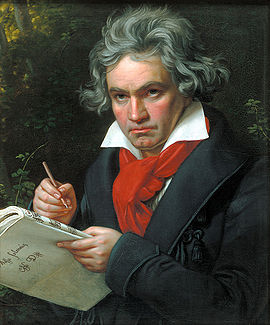 Beethoven composed in several musical genres, and for a variety of instrument combinations. His works for symphony orchestra include nine symphonies (the Ninth Symphony includes a chorus), and about a dozen pieces of "occasional" music. He wrote seven concerti for one or more soloists and orchestra, as well as four shorter works that include soloists accompanied by orchestra. His only opera is Fidelio; other vocal works with orchestral accompaniment include two masses and a number of shorter works.

His large body of compositions for piano includes 32 piano sonatas and numerous shorter pieces, including arrangements of some of his other works. Works with piano accompaniment include 10 violin sonatas, 5 cello sonatas, and a sonata for French horn, as well as numerous lieder.

Beethoven also wrote a significant quantity of chamber music. In addition to 16 string quartets, he wrote five works for string quintet, seven for piano trio, five for string trio, and more than a dozen works for a variety of combinations of wind instruments.

Beethoven's compositional career is usually divided into Early, Middle, and Late periods. In this scheme, his early period is taken to last until about 1802, the middle period from about 1803 to about 1814, and the late period from about 1815.

In his Early period, Beethoven's work was strongly influenced by his predecessors Haydn and Mozart. He also explored new directions and gradually expanded the scope and ambition of his work. Some important pieces from the Early period are the first and second symphonies, the set of six string quartets Opus 18, the first two piano concertos, and the first dozen or so piano sonatas, including the famous Pathétique sonata, Op. 13.

His Middle or "heroic" period began shortly after Beethoven's personal crisis brought on by his recognition of encroaching deafness. It includes large-scale works that express heroism and struggle. Middle-period works include six symphonies (Nos. 3–8), the last three piano concertos, the Triple Concerto and violin concerto, five string quartets (Nos. 7–11), several piano sonatas (including the Moonlight, Waldstein and Appassionata sonatas), the Kreutzer violin sonata and Beethoven's only opera, Fidelio.

Beethoven's Late period began around 1815. Works from this period are characterized by their intellectual depth, their formal innovations, and their intense, highly personal expression. The String Quartet, Op. 131 has seven linked movements, and the Ninth Symphony adds choral forces to the orchestra in the last movement. In this, as in his other choral works (primarily the Mass in C and Missa Solemnis), Beethoven has made himself a figure of fear among many singers, by writing mercilessly demanding vocal lines that seem almost to treat the voice as a woodwind instrument. One need only think of the sustained soprano top A's in the Choral Symphony and it becomes clear that for Beethoven, artistic effect came well before ease of performance! Other compositions from this period include the last five string quartets (including the massive Große Fuge) and the last five piano sonatas.

(Article based on Wikipedia entry for Beethoven)

Click here to view all items related to Beethoven. As you might expect, there are quite a lot!