Brahms German Requiem Vocal Score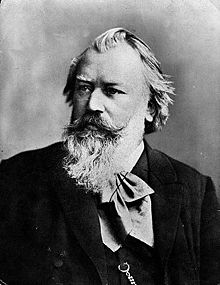 Brahms' A German Requiem (the indefinite article "a" is technically part of its title: "Ein Deutsches Requiem") is a large-scale work for chorus, orchestra, and soloists, composed between 1865 and 1868. It comprises seven movements, which together last 65 to 80 minutes, making this work Brahms's longest composition. the German Requiem is sacred but non-liturgical, and unlike a long tradition of the Latin Requiem, the German Requiem, as its title states, is a Requiem in the German language. If you wish to buy Brahms' German Requiem, please click
Vocal Scores
and then FILTER BY COMPOSER, or see below for more.
Brahms assembled the libretto to A German Requiem himself. In contrast to the traditional Roman Catholic requiem mass, which employs a standardized text in Latin, it derives its text from the German Luther Bible.
Brahms's first known use of the title A German Requiem was in an 1865 letter to Clara Schumann in which he wrote that he intended for the piece to be "a sort of German Requiem". Brahms was quite moved when he found out years later that Robert Schumann had planned a work of the same name. German refers primarily to the language rather than the intended audience. Brahms told Carl Martin Reinthaler, director of music at the Bremen cathedral, that he would have gladly called the work A Human Requiem.
Although the Requiem Mass in the Roman Catholic liturgy begins with prayers for the dead ("Grant them eternal rest, O Lord"), A German Requiem focuses on the living, beginning with the text "Blessed are those who bear pain: for they shall be comforted." This theme—transition from anxiety to comfort—recurs in all the following movements except the final one. Although the idea of the Lord is the source of the comfort, the sympathetic humanism persists through the work.
In fact, Brahms purposefully omitted Christian dogma. In his correspondence with Carl Reinthaler, when Reinthaler expressed concern over this, Brahms refused to add references to "the redeeming death of the Lord", as Reinthaler put it, such as John 3:16. In the Bremen performance of the piece, Reinthaler took the liberty of inserting the aria "I know that my redeemer liveth" from Handel's Messiah to satisfy the clergy.
Click here
to view all items related to Brahms' Requiem.