Britten Ceremony of Carols Vocal Score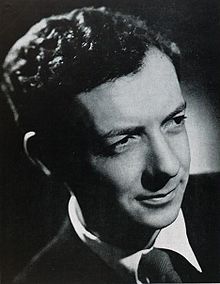 A Ceremony of Carols (op. 28) is a choral piece for Christmas by Benjamin Britten, scored for three-part treble chorus, solo voices, and harp. It consists of eleven movements, the texts of which came from The English Galaxy of Shorter Poems, by Gerald Bullett; the text is in Middle English. If you wish to buy Britten's Ceremony of Carols, please click
Vocal Scores
and then FILTER BY COMPOSER, or see below for more.
A number of the texts were subsequently used by other composers, notably "Adam lay ybounden" or "Deo Gracias", which has inspired several Christmas compositions of which the best-known is that by Boris Ord. The piece was written in 1942 while Britten was at sea, going from the United States to England. It was written at the same time as his Hymn to St. Cecilia and is stylistically very similar. Originally conceived as a series of unrelated songs, it was later unified into one piece with the framing processional and recessional; it lasts a little over 20 minutes.
Click here
to view all items related to Britten's Ceremony of Carols.