Choral Rehearsal CD
ChoraLine Video

ChoraLine Audio

Press PLAY to watch our story
Free PDF Download
ChoraLine Guide Book 1:
HOW TO LEARN YOUR VOICE PART
Over 20,000 Choral Singers Every Year Use Our Choral Rehearsal CDs & Downloads Every Year
ChoraLine recordings are learning tools, specifically created to help choral singers memorise their vocal line and practise between choir rehearsals.
ChoraLine is available as a Choral Rehearsal CD and an MP3 download for over 120 of the major Choral works.
What are the Main Advantages of using ChoraLine?
It is the attention to detail and the quality of the Choraline recordings (produced by Lloyd Silverthorne a top BBC sound engineer) which makes ChoraLine such a pleasure to use.
The narrator (Martin Muncaster, also of the BBC) provides verbal cues throughout the piece to remind you where you are (using bar numbers and rehearsal letters) and to let you know when your part comes in.
Each voice is represented by a musical instrument (soprano/flute, alto/oboe, tenor/French horn, bass/bassoon) making it easy to follow your part and means you can use any edition of the vocal score.

The accompaniment, usually played on an organ, is heard in both speakers. Where soloists sing with the choir, or provide a cue for the chorus, their part is in a different registration.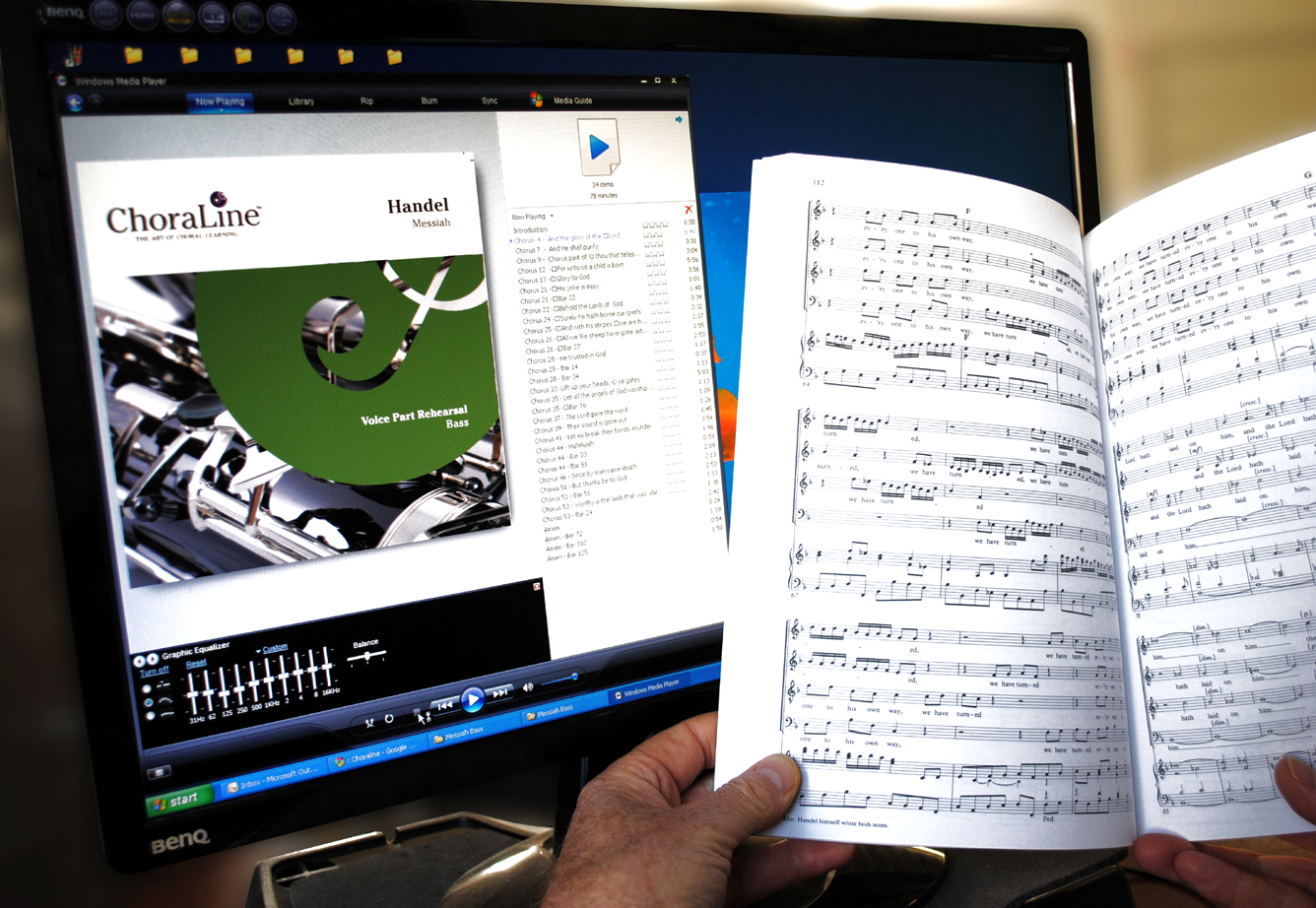 Choral singing requires dedication and our ChoraLine Choral Rehearsal CD provides invaluable help in ensuring you are prepared for rehearsals and confident in your part on the day of your performance:
A narrator guides you with 'verbal signposts' (using bar numbers and rehearsal letters) to ensure you don't get lost and to 'cue' your entry. There is a track listing (on the back of the rehearsal CD cover or within the MP3 zip file) which lists the bar numbers and rehearsal letters. This means you can follow exactly where you are in the Vocal Score when learning your part with ChoraLine recordings.
ChoraLine highlights your part clearly and prominently
Hear and assimilate the music so it becomes second nature to sing
Rehearse in time with the music and learn at your own pace
Use the balance control on your stereo (or the graphic equaliser on your computer) to enhance or diminish your voice part. Have your vocal line quite loud to start with and when you feel you know your part, test yourself by turning it right down. The 'verbal signposts', other parts and backing music remains audible at the normal level.
Focus on challenging sections by going over and over specific parts of a movement
Use as a 'pitch cue' for your vocal entry
Practice hitting the notes until you are perfect, far more enjoyable than unaccompanied note-bashing, be prepared ( having learnt your part in advance of rehearsal)
Sing with more confidence and experience a higher level of achievement