Using ChoraLine to Learn your Part
25,000 Choral Singers use ChoraLine Every Year
To Help Learn Their Choral Part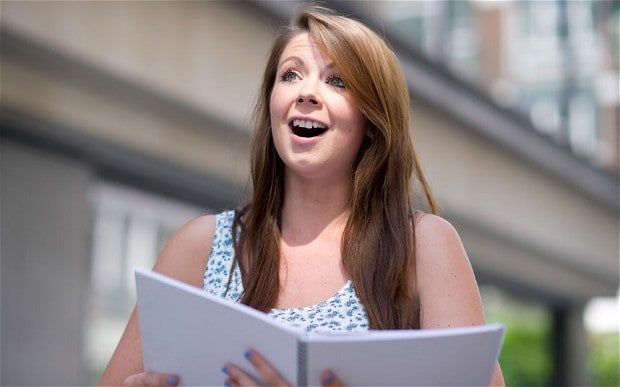 Sing Your Notes Perfectly
"Since I have been using ChoraLine, I sing with more confidence and experience
a higher level of achievement and enjoyment"

Choral music has specific notes and words written for each SATB Voice Part(Soprano, Alto, Tenor, Bass)
and these are shown on seperate lines in the sheet music called a vocal score:
To really enjoy singing in your choir you need to learn and rehearse your SATB Voice Part so you are singing the right words at the right pitch at precisely the right time.

Choral directors are very appreciative when singers have taken the time to learn their voice parts as this means they can focus on directing the whole choir rather than spending valuable rehearsal time on teaching individual sections their words and notes.
It does take time and dedication to know your part well and ChoraLine makes this an enjoyable way to achieve this aim.

We have put together a free guide called 'Learning Your Voice Part' which you can read and print off now if you wish:
Free PDF Download HOW TO LEARN YOUR VOICE PART Introduction - Step by Step Guide - Explanation of Choral Terms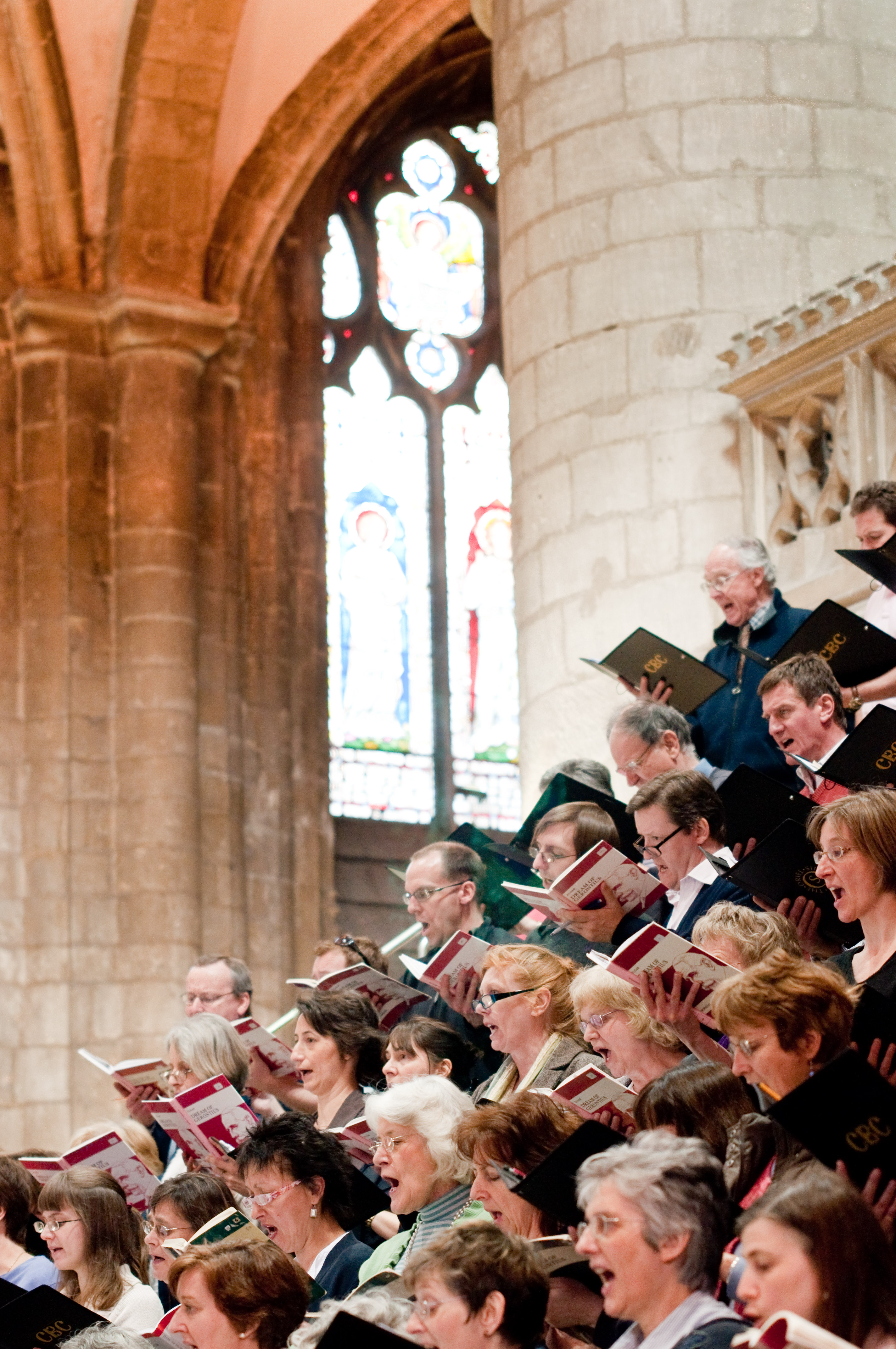 The more confident you are in your voice part
the more you contribute to your choir

ChoraLine is available on a premium CD and
EasyPlay to use right away on your phone, tablet, laptop and PC.
Please click on your voice part to try a free EasyPlay sample which is the first movement from Handel Messiah

High Quality: Created by an expert choral singer & BBC Sound Engineer
Easy To Use: A narrator guides you
Learn At Your Own Pace: Singing with the music

Please click below on the name of the composer of the choral work you are singing
Christmas Oratorio
Magnificat
Mass in B Minor
Motets No. 1 & 5
Motets No. 2 & 4
Motets No. 3 & 6
St John Passion
St Mathew Passion

BEETHOVEN
9th (Choral Symphony)
Choral Fantasia
Mass in C
Missa Solemnis in D

BERLIOZ
Grande Messe des Morts (Requiem)
Te Deum

BERNSTEIN
Chichester Psalms (with Hebrew pronunciation guide)

BRAHMS
German Requiem (Ein Deutsches Requiem)

BRITTEN
Ceremony of Carols
Rejoice in the Lamb
St Cecilia
St Nicolas
War Requiem

BRUCKNER
Mass in E Minor
Mass in F Minor

CHARPENTIER
Messe de Minuit
Te Deum

CHILCOTT
Jubilate
Requiem

DURUFLE
Requiem

DVORAK
Mass in D
Te Deum
Requiem
Stabat Mater

ELGAR
The Apostles
Ave Verum
Dream of Gerontius
The Kingdom
Light of Life (Lux Christi)
Music Makers
Spirit of England

FAURE
Cantique de Jean Racine
Requiem

FINZI
For St Cecilia
Intimations of Immortality
Lo, The Full Final Sacrifice
In Terra Pax
Magnificat

GILBERT & SULLIVAN
Mikado
Trial by Jury
Choruses

GOODALL
Eternal Light a Requiem
The Lord's my Shepherd


GOUNOD
Messe Solennelle de St Cecile

HANDEL
Alexander's Feast
Coronation Anthems
Dixit Dominus
Dettingen Te Deum (Novello Edition)
Dettingen Te Deum (Peters Edition)
Israel in Egypt
Judas Maccabaeus
Messiah
Messiah - '3 Steps to Sing'
Messiah - 'With Singer'
Samson
Ode on Saint Cecilia's Day
Saul

HAYDN
The Creation (Die Schopfung)
Harmoniemesse (Wind Band Mass)
Little Organ Mass
Maria Theresa Mass (Theresienmesse)
Missa Sancti Nicolai (Mass of St Nicholas)
Te Deum
Nelson Mass (Missa in Angustiis)
Paukenmesse
The Seasons

JENKINS
The Armed Man : A Mass for Peace
Gloria
Requiem
Stabat Mater
The Peacemakers
Gods of Olympus
A Parliament of Owls
For the Fallen

KAY
Great Choruses from Great Oratorios

MAHLER
Resurrection Symphony (Symphony No. 2)
Symphony of a Thousand (Symphony No. 8)

MENDELSSOHN
Elijah (Elias)
St Paul (Paulus)
Hymn of Praise (Lobgesang, Symphony No. 2)

MONTEVERDI
Beatus Vir
Vespers

MOZART
Mass in C (Levin Edition)
Mass in C (New Novello Edition)
Mass in C (All other Editions)
Coronation Mass in C
Misericordias Domini
Ave Verum
Missa Brevis in B flat
Requiem
Solemn Vespers

ORFF
Carmina Burana

PARRY
I Was Glad
Blest Pair of Sirens (4 and 8 part versions)
Invocation to Music
Hear my Words ye People

POULENC
Gloria
Stabat Mater

PURCELL
Dido & Aeneas
Ode on Saint Cecilia's Day
Come ye Sons of Art, Away

PUCCINI
Messa di Gloria

RACHMANINOV
Vespers (with Russian pronunciation)

RUTTER
Requiem
Magnificat
Gloria

SCHUBERT
Magnificat
Mass in A Flat
Mass in G

STAINER / MAUNDER
Crucifixion
Olivet to Calvary

STRAVINSKY
Symphony of Psalms

TIPPETT
A Child of Our Time
Five Negro Spirituals

VAUGHAN WILLIAMS
Dona Nobis Pacem
Five Mystical Songs
Fantasia on Christmas Carols
Toward the Unknown Region
Benedicite
A Sea Symphony

VERDI
Requiem
4 Sacred Pieces

VIVALDI
Gloria

WALTON
Belshazzar's Feast
Coronation Te Deum

Willcocks
The Road Not Taken
In Praise of Singing




ChoraLine is perfect for singers who love to learn their part by singing rather than simply 'note bashing' from the vocal score!

ChoraLine is a 'learning tool' specifically created so you can learn your notes at home and be fully prepared for choir rehearsals
*

High Sound Quality - produced by BBC Sound Engineer
*

Easy To Use - a narrator calls out when to sing
*

Don't Get Lost - a narrator calls out bar numbers
*

Be Pitch Perfect - clearly hear the notes of your part
*

Learn At Your Own Pace - rehearse in time with the music
*

Vocal Entry - use as a 'pitch cue' for when you come in
By being 'fully prepared' you will sing with more confidence, enjoy choir rehearsal far more and experience a higher level of achievement.
Over 20,000 singers use ChoraLine every year to help learn their SATB (Soprano, Alto, Tenor, Bass) part.
ChoraLine is available as a CD
or as ChoraLine EasyPlay to Play On-Line or 'download'
"I wanted to thank you for producing your wonderful rehearsal CD's" - Gabriel
"I am delighted with your service and delighted with the CD" - Paul
"I love learning with your CDs, thank you again" - Kathryn
"I must compliment you on your excellent CDs" - Elizabeth
"Well done for an excellent and superb service" - Graham
"I have told everyone in the choir about your CDs because they are so brilliant" - Lynne
"We now have 22 of your CDs and cannot tell you how helpful they have been" - Joan and David
Please click here to see the full ChoraLine Range and then hold you mouse over 'Filter by Composer'