Cyberbass
Cyberbass has been providing learning aids for choral singers for over 20 years and ChoraLine in 2019 will be celebrating its 25th anniversay of providing choir part rehearsal recordings for choral singers all over the world.
Two of the services most valued by Cyberbass users are being able to 'slow down' a movement and also to 'loop' a movement so it plays over and over again.
We are delighted these functions are included within the new ChoraLine App which has been specifically designed to work on phones and tablets.
Please click here to visit our ChoraLine App website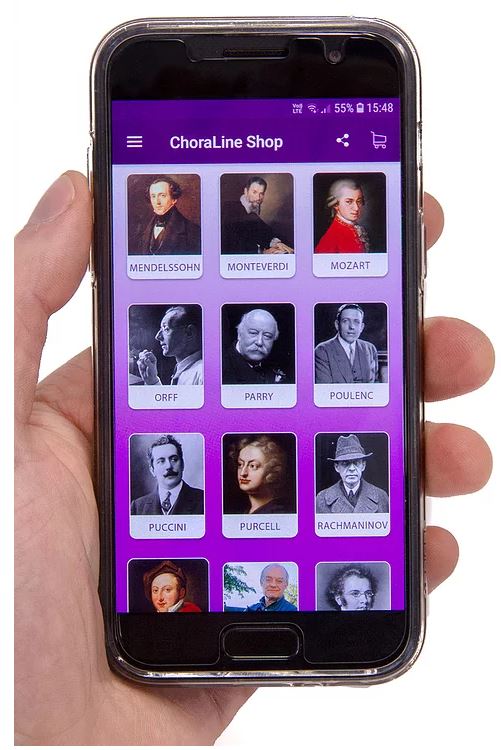 A specialy created choral app for choral singers to use on their phone and tablet.
A choral learning repertoire at your fingertips - Learn to sing your notes perfectly with the ChoraLine app for Soprano, Alto, Tenor and Bass.
Tried and tested by thousands of singers around the world and now optimised for your device so you can sing your notes perfectly.
Learn your voice part with ease and confidence from your phone or tablet, with specialist rehearsal recordings of over 120 choral works, including:
- Karl Jenkins' The Armed Man
- Carmina Burana and many more...
The app puts a complete choral repertoire at your fingertips, ready to download at your convenience. The exclusive features of ChoraLine recordings include:
- High quality audio produced by a BBC sound engineer
- Hear your part played note-perfect on an instrument that's clear and prominent
- The music is split into achievable sections, making it easier to learn at your own pace
- A narrator calls out 'verbal signposts' to guide you through your vocal score
- Rehearse tricky passages over and over using the 'loop' function
- Adjust the playback speed to help you learn difficult passages at your own pace
- For the most popular works, you can learn by hearing your part sung by a professional singer!
Please click here to visit our ChoraLine App website
CyberBass®
(Free Online Use - Choral Learning CDs Available for Purchase)
Used by over 1000 Choirs Worldwide
CyberBass Pledge - Privacy Policy - User Agreement