Dvorak
Antonín Leopold Dvořák (September 8, 1841 – May 1, 1904) was a Czech composer of Romantic music, who employed the idioms of the folk music of Moravia and his native Bohemia. His works include operas, symphonic, choral and chamber music. His best-known works include his New World Symphony, the Slavonic Dances, "American" String Quartet, and Cello Concerto in B minor.
DVORAK- Please click here to view everything we stock
DVORAK Choral Scores- Please click here
DVORAK ChoraLine- Please click here
DVORAK Performance CDs- Please click here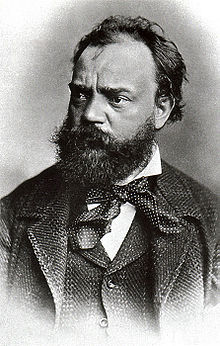 Dvořák wrote in a variety of forms: his nine symphonies generally stick to classical models that Beethoven would have recognised, but he also worked in the newly developed symphonic poem form and the influence of Richard Wagner is apparent in some works. Many of his works also show the influence of Czech folk music, both in terms of elements such as rhythms and melodic shapes; perhaps the best known examples are the two sets of Slavonic Dances. His interest in nationalist ideas carried over to his work in the United States. Dvořák also wrote operas (of which the best known is Rusalka); serenades for string orchestra and wind ensemble; chamber music (including a number of string quartets and quintets); songs; choral music; and piano music.

The greatest of Dvořák's choral works are his Requiem, Op. 89, his Te Deum, his Mass in D major, and his Stabat Mater, the longest extant setting of that work. The recording of the Requiem by conductor Karel Ančerl with the Czech Philharmonic Orchestra, the Czech Philharmonic Chorus and soloists (1959) was awarded the prestigious "Grand Prix du disque de L'Académie Charles Cros". Other choral works include: The Spectre's Bride, Hymn of the Czech Peasants, St. Ludmila, The American Flag, Festival Song and many more.

Click here to view all items related to Dvořák.