Elgar Kingdom Vocal Score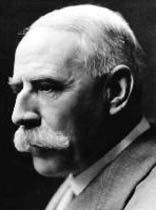 Following The Dream of Gerontius and The Apostles, the Birmingham Triennial Music Festival commissioned Elgar to produce another large oratorio for the 1906 festival. This was The Kingdom, which continues the narrative of the lives of Jesus's disciples. It depicts the community of the early church, Pentecost, and the events of the next few days. If you wish to buy Elgar's The Kingdom, please click
Vocal Scores
and then FILTER BY COMPOSER, or see below for more.
Elgar had been planning a work depicting the Apostles as ordinary men, reacting to extraordinary events, for many years. His ideas outgrew the confines of a single work: parts of The Kingdom were written before The Apostles, and later Elgar considered them as the first two parts of a trilogy. The Kingdom is, in effect, its slow movement. In the event, the projected third part was never written.
The Kingdom is written for a large orchestra, of typical late Romantic proportions. There is a double chorus with semichorus, and four soloists representing: The Blessed Virgin (soprano), Mary Magdalene (contralto), St John (tenor), and St Peter (bass).
The work is in five parts, each played without a break, preceded by a prelude. Words were selected by Elgar from the Acts of the Apostles, supplemented by material mainly from the Gospels.
1. In the Upper Room. The disciples meet and the new Apostle, Matthias, is chosen.
2. At the Beautiful Gate. The two Marys remember Jesus's actions in the temple.
3. Pentecost. The disciples are visited by the Holy Spirit and preach to the multitudes.
4. The Sign of Healing. Peter and John heal the lame man and are imprisoned.
5. The Upper Room. Peter and John have been released; the disciples break bread and sing the Lord's Prayer.
As in Elgar's other mature oratorios, the Prelude introduces the main musical themes and sets the mood. The music is lyrical and mystical, with less narrative drive than in The Apostles. Its most memorable moments are the ecstatic depiction of Pentecost, Mary's glowing aria "The sun goeth down", and the devotional setting of the Lord's Prayer.
Click here
to view all items related to Elgar's The Kingdom.