Handel Israel in Egypt Vocal Score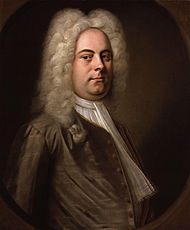 Israel in Egypt (HWV 54) is a biblical oratorio by the composer George Frideric Handel. Many historians believe the libretto was compiled by Handel's collaborator Charles Jennens, and it is composed entirely of selected passages from the Hebrew Bible, mainly from Exodus and the Psalms.
Israel in Egypt premiered at London's King's Theatre in the Haymarket on April 4, 1739. Handel started it soon after the opera season at King's theatre was cancelled because of a lack of subscribers. The oratorio was not well received by audiences, although commended in the Daily Post, and the second performance was shortened, the mainly choral work now augmented with Italian arias. If you wish to buy Handel's Israel in Egypt, please click
Vocal Scores
and then FILTER BY COMPOSER, or see below for more.
An early version of the piece is in three parts rather than the later two; incorporating the first part more famous as "The ways of Zion do Mourn", with altered text as "The Sons of Israel do Mourn" lamenting the death of Joseph. This section precedes the Exodus which in the tripartite version is Part II rather than Part I. This variant has been recorded by Andrew Parrott and Stephen Cleobury.
For a long time, the earliest known recording of music known to be still in existence was an excerpt from this Oratorio (since then, the work of Édouard-Léon Scott de Martinville has been rediscovered and played back). The recording was of several thousand singers singing "Moses and the Children of Israel" in the Crystal Palace Handel Festival of 1888-06-29, recorded by Col. George Gouraud on Edison's yellow paraffin cylinder. The limitations of recording technology at that time, together with the number of voices, the distance of the recording device from the singers, and the acoustics of the Crystal Palace, mean that the recording was never hi-fidelity, and it has since then become badly degraded. What survives is of poor quality, but is identifiable by ear, and gives some insight into performance practices at the height of the Handel Festival phenomenon.
Click here
to view all items related to Israel in Egypt.