Handel Ode for St Cecilia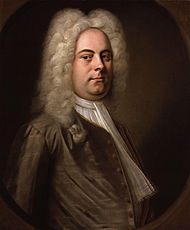 Ode for St. Cecilia's Day (Hwv 76) is a cantata composed by George Frideric Handel in 1739, his second setting of the poem by the English poet John Dryden. The title of the oratorio refers to Saint Cecilia, the patron saint of musicians. The main theme of the text is the Pythagorean theory of harmonia mundi, that music was a central force in the Earth's creation. The premiere was on 22 November 1739 at the Theatre in Lincoln's Inn Fields, London. If you wish to buy Handel's Ode on St Cecilia's Day, please click Vocal Scores and then FILTER BY COMPOSER, or see below for more.
The work features a series of showpiece sections that demonstrate a particular facet of music - martial, plaintive, anguished and serene (religious) music all being represented in both Dryden's setting and Handel's setting thereof.
Click here
to view all items related to Handel's Ode on St Cecilia's Day.