Karl Jenkins
Karl Jenkins
is the UK's most popular contemporary composer, and one of Wales' most versatile and critically-acclaimed musicians.
JENKINS Choral Scores- Please click here
JENKINS ChoraLine- Please click here
JENKINS ChoraLine 'With Singer' (The Armed Man)- Please click here
JENKINS Performance CDs- Please click here
JENKINS Singing Sets- Please click here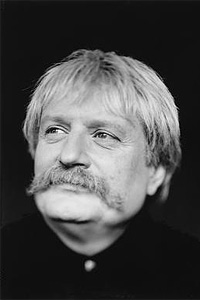 Karl Jenkins was born in 1944 and was raised in Penclawdd, South West Wales. His father was a school teacher, organist and choir master, who taught Karl music theory and the piano.

While at Gowerton Grammar School, Karl played oboe in the National Youth Orchestra of Wales, before reading music at the University of Wales, Cardiff. He went on to study at the Royal Academy of Music in London.

Jenkins initially focused on playing jazz, with performances at Ronnie Scott's legendary club. He co-formed the group Nucleus, which won first prize at the 1970 Montreux Jazz Festival. Jenkins wrote the majority of Nucleus' first two albums, Elastic Rock and We'll Talk About It Later, both of which were dizzying explorations of jazz-rock fusion. Critical acclaim followed, though financial gains were harder to come by.

Jenkins and drummer John Marshall left the band in 1972 to join Mike Ratledge and Hugh Hopper in Canterbury prog band Soft Machine. In their time, the band would play venues as diverse as Carnegie Hall, the Proms and the Newport Jazz Festival in Rhode Island. Jenkins went on to lead the band during various line-ups, until they disbanded in 1984.

Following Soft Machine, Jenkins started a media company with Mike Ratledge, writing jingles and music for adverts. Credits included BA, Renault, Volvo, De Beers, Tag Heuer and Pepsi. They also re-recorded I Heard It Through The Grapevine for Levi's famous advert starring Nick Kamen:

"Advertising agencies would buy the use of a song, and then get someone like me to copy the original arrangement. The most famous one we did was the Levi's advertisement of the guy taking his jeans off in the laundrette. Everyone thought it was Marvin Gaye, but it was a Barbadian fellow called Tony Jackson. It was cheaper than buying the recording rights. Eventually, because it was basic forgery, people started suing."

He is perhaps best-known today for the Adiemus project. The 1994 album Adiemus: Songs Of Sanctuary, described by Jenkins as "an extended choral-type work based on the European classical tradition, but where the vocal sound is more akin to 'ethnic' or 'world' music."

Adiemus was an ambitious classical crossover, which topped music charts around the world and has been conducted by the composer in Japan, Germany, Spain, Finland Holland and Belgium, as well as at London's Royal Albert Hall and Battersea Power Station. It also led to a series of further Adiemus albums.

Karl Jenkins has also composed for the Royal Ballet, the National Youth Orchestra of Wales, Lesley Garrett and Bryn Terfel among others. He has also scored and conducted an album of rock classics by Bonnie Tyler, and produced music by Catrin Finch for Sony Classical.

In February 2005 his concertante Quirk was premiered. It was commissioned by the London Symphony Orchestra as part of its centenary season and was conducted by Sir Colin Davis. And the following March saw the release of Requiem, his classical chart-topping work which draws on western and oriental traditions. It is a mass for the souls of the dead, set to text from the Latin Christian mass and Japanese jisei or death poetry.

Karl continues his prolific output, which includes a film score for River Queen, a setting of the Stabat Mater, This Land Of Ours for Only Men Aloud and a piece to celebrate the the 10th anniversary in 2009 of Welsh devolution - Ysbrydoliaeth (Inspiration).

Karl regularly features in the Classic FM Hall of Fame. In the 2009 listings, he holds the number one spot in the top 10 British composers list and joint 9th in the top 10 British composers list, the only living composer to appear in the top 10.

In recent years Jenkins has been given a host of accolades, including being made a fellow and associate of the Royal Academy of Music, and a fellow of the Royal Welsh College of Music and Drama. In 2005 he was awarded an OBE for his services to British music.

(Biography from BBC Wales)

Click here to view all items related to Karl Jenkins.