Mendelssohn
Jakob Ludwig Felix Mendelssohn Bartholdy, born, and generally known in English-speaking countries, as Felix Mendelssohn (3 February 1809 – 4 November 1847) was a German composer, pianist, organist and conductor of the early Romantic period.
MENDELSSOHN- Please click here to view everything we stock
MENDELSSOHN Choral Scores- Please click here
MENDELSSOHN ChoraLine- Please click here
MENDELSSOHN Performance CDs- Please click here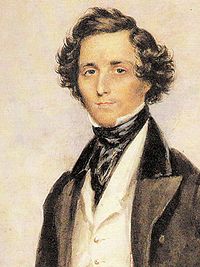 The grandson of the philosopher Moses Mendelssohn, Felix was born into a notable Jewish family, although he himself was brought up initially without religion, and later as a Lutheran Christian. He was recognized early as a musical prodigy, but his parents were cautious and did not seek to capitalise on his abilities.

Early success in Germany, where he also revived interest in the music of Johann Sebastian Bach, was followed by travel throughout Europe. Mendelssohn was particularly well-received in Britain as a composer, conductor and soloist, and his ten visits there — during which many of his major works were premiered — form an important part of his adult career. His essentially conservative musical tastes however set him apart from many of his more adventurous musical contemporaries such as Franz Liszt, Richard Wagner and Hector Berlioz. The Leipzig Conservatoire (now the University of Music and Theatre Leipzig), which he founded, became a bastion of this anti-radical outlook.

Mendelssohn's work includes symphonies, concerti, oratorios, piano music and chamber music. His most-performed works include his Overture and incidental music for A Midsummer Night's Dream, the Italian Symphony, the Scottish Symphony, the Hebrides Overture, his Violin Concerto, and his String Octet. After a long period of relative denigration due to changing musical tastes and anti-Semitism in the late 19th and early 20th centuries, his creative originality has now been recognized and re-evaluated. He is now among the most popular composers of the Romantic era.

Mendelssohn's two large biblical oratorios, St Paul in 1836 and Elijah in 1846, are greatly influenced by Bach. His unfinished oratorio, Christus, consists of a recitative, a chorus "There Shall a Star Come out of Jacob," and a male trio; the chorus is sometimes performed.

Strikingly different is the more overtly romantic Die erste Walpurgisnacht (The First Walpurgis Night), a setting for chorus and orchestra of a ballad by Goethe describing pagan rituals of the Druids in the Harz mountains in the early days of Christianity. This remarkable score has been seen by the scholar Heinz-Klaus Metzger as a "Jewish protest against the domination of Christianity".

Mendelssohn also wrote many smaller-scale sacred works for unaccompanied choir and for choir with organ. Most are written in or translated into English, and remain highly popular. Amongst the most famous is Hear My Prayer, with its second half containing "O for the Wings of a Dove," which became extremely popular as a separate item. The piece is written for full choir, organ, and a treble or soprano soloist who has many challenging and extended solo passages. As such, it is a particular favourite for choirboys in churches and cathedrals, and has frequently been recorded as a treble solo. Mendelssohn's biographer Todd comments 'The very popularity of the anthem in England [...] later exposed it to charges of superficiality from those contemptuous of Victorian mores'.

The hymn tune Mendelssohn — an adaptation by William Hayman Cummings of a melody from Mendelssohn's cantata Festgesang (Festive Hymn) — is the standard tune for Charles Wesley's popular hymn Hark! The Herald Angels Sing. This extract from an originally secular 1840s composition, which Mendelssohn felt unsuited to sacred music, is ubiquitous at Christmas across the Western world.

Click here to view all items related to Mendelssohn.