Poulenc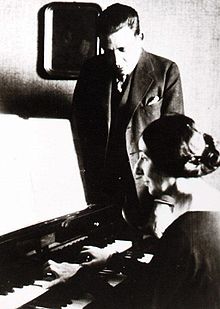 Francis Jean Marcel Poulenc (1899-1963); was a French composer and a member of the French group Les Six. He composed music in genres including art song, solo piano music, chamber music, oratorio, opera, ballet music, and orchestral music. Critic Claude Rostand, in a July 1950 Paris-Presse article, described Poulenc as "half monk, half delinquent" ("le moine et le voyou"), a tag that was to be attached to his name for the rest of his career.
Poulenc was born in Paris in 1899. His father Emile Poulenc was a second generation director of Poulenc and later Rhone-Poulenc chemical corporation. His mother, an amateur pianist, taught him to play and music formed a part of family life. He was a capable pianist and the keyboard dominated his early compositions. He borrowed from his own compositions as well as those of Wolfgang Amadeus Mozart and Camille Saint-Saëns. Later in his life, the loss of close friends, coupled with a pilgrimage to the Black Madonna of Rocamadour, led him to rediscover the Roman Catholic faith and resulted in compositions of a more sombre, austere tone.
Poulenc was a member of Les Six, a loose-knit group of young French and Swiss composers (it also included Milhaud, Auric, Durey, Honegger and Tailleferre) who had links with Erik Satie, Jean Hugo and Jean Cocteau. He embraced the Dada movement's techniques, creating melodies more appropriate for Parisian music halls than the concert hall.
He was identified with this group before he undertook his first formal musical training, with Charles Koechlin in 1921.
Poulenc was a featured pianist in recordings, including some of his own songs (with Pierre Bernac, recorded in 1947; and Rose Dercourt) and the Concerto for Two Pianos (recorded in May 1957). He supervised the 1961 world premiere recording of his Gloria, which was conducted by Georges Prêtre. His recordings were released by RCA Victor and EMI. Poulenc's Perpetual Motion No. 1 (1918) is used in Alfred Hitchcock's Rope (1948).
Among Poulenc's last series of major works is a series of works for wind instruments and piano. He was particularly fond of woodwinds, and planned a set of sonatas for all of them, yet only lived to complete four: sonatas for flute, oboe, clarinet, and the Elégie for horn.
He had only one piano student, Gabriel Tacchino, who has performed and recorded all his piano music, lending it a unique insight.
Poulenc died of heart failure in Paris in 1963 and is buried at the Père Lachaise Cemetery.
Click here
to view all items related to Poulenc.