Choral Performance CDs
Requiem (Warner) - Performance CD
Price: $12.79
In stock
Item Price: $12.79
Out of stock
We do apologise but this item is currently out of stock.

We replenish the stock every day so please do go ahead with your order.

If for some reason we cannot despatch within 5 working days we will email you with an estimated delivery date and the option to cancel if you wish.

Thank you for your patience
Select your currency:
PC7243 55796622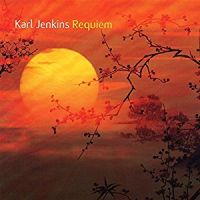 SERVICE - ChoraLine
If you order before 3pm we will despatch (1st Class Royal Mail) on the same day and you can call us on 01285 644845 for orders and advice.
Jenkins, Karl: Requiem
Requiem is a highly interesting work which draws on Western and Oriental traditions. Requiem in paradisum ('Rest in Paradise') is a mass for the souls of the dead set to texts from the Christian Mass (in Latin), using the familiar Dies Irae, Pie Jesu and Lacrimosa plus Japanese jisei. These are traditional Japanese haiku whose timeless music highlights the cyclical nature of life, death and rebirth. The work is performed by a chamber orchestra, two choirs (leading amateur Welsh choirs), soprano soloist, incidental harp, percussion and shakuhachi (Japanese flute), incorporating a Western melodic style with ethnic and world music elements - the trademark of Karl Jenkins.

The album finishes with an additional track: Bryn Terfel sings 'In these horizons stones sing', which was commissioned for and premiered at the opening of the Wales Millennium Centre in Cardiff in November. It is a 15-minute work for chorus and bass-baritone solo to texts by eminent modern Welsh poets sung in Welsh and English.