Choral Performance CDs
Willow-Wood / The Sons of Light / Toward the Unknown Region / Five Variants of Dives and Lazarus (Naxos, cond. Lloyd-Jones) - Performance CD
PC8.557798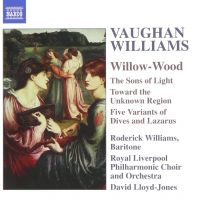 This disc features the world premiere recording of the cantata Willow-Wood, a little known yet substantial work by the great British composer, Ralph Vaughan Williams. Scored for baritone, women's choir and orchestra, Willow-Wood is a luxuriant setting of part of Dante Gabriel Rossetti's sequence The House of Light. Unrecorded since the LP era, the choral cantata The Sons of Life is a dazzling depiction of the passing of the sun, with many of the magical harmonic and and rhythmical effects for which Vaughan Williams was renowned.
1. Toward the Unknown Region (Song for Chorus and Orchestra) - 11.39
2. Willow-Wood (Cantata for Baritone and Orchestra. World Premiere Recording) - 13.55
3. The Voice out of the Whirlwind (Motet for Chorus and Orchestra) - 5.15
4. Five Variants of Dives and Lazarus (for Strings and Harp) - 11.38
The Sons of Light (Cantata for Chorus and Orchestra) - 19.24
5. Darkness and Light - 9.07
6. The Song of the Zodiac - 6.10
7. The Messengers of Speech - 4.06
Playing time: 61:51
Recorded: Philharmonic Hall, Liverpool UK on 20th February and 8th May 2005
Performed by
: Roderick Williams, Baritone. Royal Liverpool Philharmonic Choir and Orchestra. Conducted by David Lloyd-Jones.
Released: November 2005