Vocal Scores - Choral
Bach Magnificat In D NOVELLO
VS6 NOV079024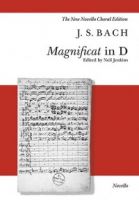 BACH - please click here if you wish to learn about the composer
BACH MAGNIFICAT - please click here if you wish to learn more about this piece of music
CHORALINE - please click here to also order a ChoraLine Rehearsal CD/EasyPlay to learn your part




Bach's Magnificat In D was originally composed in 1723 for the Christmas Vespers in Leipzig, with Christmas specific texts that would be later removed to make the work suitable for year-round performance.
The work can be divided into twelve parts grouped into three movements, beginning with an aria and ending with a fugal chorus.
This edition is edited by Neil Jenkins for SATB with a Piano accompaniment. In the original key of D.
Title: J.S. Bach: Magnificat In D
Composer: Bach, Johann Sebastian
Editor: Jenkins, Neil
Arrangement: SATB, Piano Accompaniment (SATB/PFA)
Media: Sheet Music
Edition Type: Vocal Score
Language: Latin
Pages: 64
Category: Vocal & Choral » Choral » SATB
Publisher: Novello & Co
Catalogue Number: MUSNOV079024
Catalogue Number: 9781847727848
Catalogue Number: NOV079024
ISBN: 9781847727848 (1847727840)
Date Published: 28 Oct 2008