Vocal Scores - Choral
Bach Magnificat in D/E Flat NOVELLO
VS5 NOV072529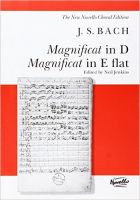 BACH - please click here if you wish to learn about the composer
BACH MAGNIFICAT - please click here if you wish to learn more about this piece of music
CHORALINE - please click here to also order a ChoraLine Rehearsal CD/EasyPlay to learn your part




Magnificat in D has long been regarded as one of Bach's finest short choral works and is frequently performed on festive occasions.
Included in this edition is the far less well known Magnificat in E flat composed in 1723.
Arranged for solo voices, SATB choir and orchestra, edited with a new translation of the four Lauds, by Neil Jenkins.
Title: J.S. Bach: Magnificat In D/Magnificat In E Flat
Composer: Bach, Johann Sebastian
Editor: Jenkins, Neil
Arrangement: SSA, SATB, Piano Accompaniment (SSA/SATB/PFA)
Media: Sheet Music
Edition Type: Vocal Score
Language: English
Pages: 144
Category: Vocal & Choral » Choral » SATB
Publisher: Novello & Co
Catalogue Number: MUSNOV072529
Catalogue Number: 9780711984585
Catalogue Number: NOV072529
ISBN: 9780711984585 (0711984581)
Date Published: 9 Aug 2000