Vocal Scores - Choral
Bach Mass In B Minor NOVELLO
Price: $16.13
In stock
Item Price: $16.13
Out of stock
We do apologise but this item is currently out of stock.

We replenish the stock every day so please do go ahead with your order.

If for some reason we cannot despatch within 5 working days we will email you with an estimated delivery date and the option to cancel if you wish.

Thank you for your patience
Select your currency:
VS9 NOV078430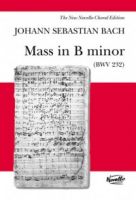 SERVICE - ChoraLine
We believe we provide the best service - if you order before 3pm we will despatch (1st Class Royal Mail) on the same day and you can call us on 01285 644845 for orders and advice.
CHOIR DISCOUNT CODE - Applies to this Vocal Score
1. Enter your choir's code in the discount box on the Shopping Basket Page
2. Click the green arrows on the right hand side of the box to see the amount saved
If your choir does not have a discount code please click here
In the meantime please type TEMPORARY in the discount code box to receive your discount right away
BULK ORDERS - We have a special arrangement with Hal Leonard, the world's largest music publisher, who will despatch direct. All orders of 20 plus scores receive a 15% discount with free delivery. Please click here for further details




BACH - please click here if you wish to learn about the composer
BACH MASS IN B MINOR - please click here if you wish to learn more about this piece of music
CHORALINE - please click here to also order a ChoraLine Rehearsal CD/EasyPlay to learn your part




The Mass in B minor (BWV232) is a stupendous creation that exemplifies Bach's mighty genius, composed for SSATB soli, SSATB chorus and orchestra.
This edition, expertly edited by Neil Jenkins, contains the complete Vocal Score with a Piano accompaniment.
With notes and editorial commentary in English and text in Latin.
Title: J.S. Bach: Mass In B Minor BWV 232 (Vocal Score)- Novello Edition
Composer: Bach, Johann Sebastian
Editor: Jenkins, Neil
Arrangement: 2 Soprano, Alto, Tenor, Bass Soli, SSATB Chorus, Piano (SOP(2)/ALTO/TEN/BASS/ SSATB/PFA)
Media: Sheet Music
Edition Type: Vocal Score
Language: English
Pages: 204
Category: Vocal & Choral » Choral » SATB
Publisher: Novello & Co
Catalogue Number: MUSNOV078430
Catalogue Number: NOV078430
ISBN: 9780711995321 (071199532X)