Vocal Scores - Choral
Bach Mass In B Minor NOVELLO
VS9 NOV078430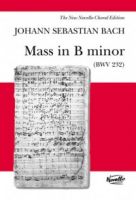 BACH - please click here if you wish to learn about the composer
BACH MASS IN B MINOR - please click here if you wish to learn more about this piece of music
CHORALINE - please click here to also order a ChoraLine Rehearsal CD/EasyPlay to learn your part




The Mass in B minor (BWV232) is a stupendous creation that exemplifies Bach's mighty genius, composed for SSATB soli, SSATB chorus and orchestra.
This edition, expertly edited by Neil Jenkins, contains the complete Vocal Score with a Piano accompaniment.
With notes and editorial commentary in English and text in Latin.
Title: J.S. Bach: Mass In B Minor BWV 232 (Vocal Score)- Novello Edition
Composer: Bach, Johann Sebastian
Editor: Jenkins, Neil
Arrangement: 2 Soprano, Alto, Tenor, Bass Soli, SSATB Chorus, Piano (SOP(2)/ALTO/TEN/BASS/ SSATB/PFA)
Media: Sheet Music
Edition Type: Vocal Score
Language: English
Pages: 204
Category: Vocal & Choral » Choral » SATB
Publisher: Novello & Co
Catalogue Number: MUSNOV078430
Catalogue Number: NOV078430
ISBN: 9780711995321 (071199532X)