Vocal Scores - Choral
Mass in C by Beethoven NOVELLO
VS42 NOV078562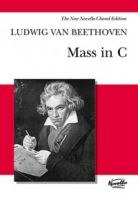 Beethoven's Mass In C was commissioned by Prince Nikolaus Esterhazy for the name-day of his wife Princess Maria, and was first performed on 13 September 1807.
Beethoven's setting continues the series of six great Masses composed by Haydn in previous years for the same occasion.
Available here is a revised Vocal Score edition by Michael Pilkington, for SATB Soli, Choir and Piano accompaniment.
Title: Ludwig Van Beethoven: Mass In C (Vocal Score)
Composer:

Beethoven, Ludwig Van
Editor:

Pilkington, Michael
Arrangement:

Soprano, Alto, Tenor, Bass Voice, SATB, Piano Accompaniment (SOP/ALTO/TEN/BASS/SATB/PFA)
Edition Type:

Vocal Score
Category:

Vocal & Choral » Choral » SATB
Catalogue Number:

MUSNOV078562
Catalogue Number:

NOV078562
ISBN:

9780711992016 (0711992010)